Kentucky Is About More Than Bourbon, Mint Juleps, and the Derby: It's Car Country, Too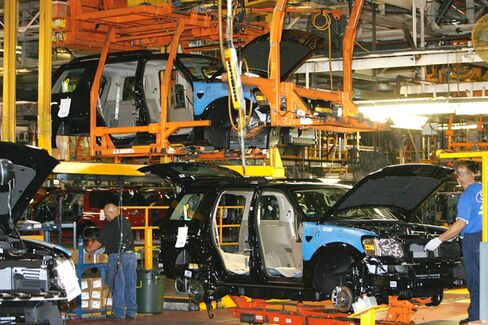 When you think of cars, you think of Detroit. When you think of Kentucky, it's Churchill Downs, bourbon, and mint juleps. You should be thinking cars, too. Over the past several decades, Kentucky has become one of America's largest auto producers—fourth overall in cars, fifth in light vehicles, and eighth in truck production.
Ford has had a presence in the Bluegrass State since 1913 and currently has two plants there. General Motors' plant in Bowling Green, which produces the iconic Chevy Corvette, has been in operation since 1981. Toyota's Georgetown plant, which makes the Camry, Camry Hybrid, Avalon, and Venza, is the company's largest outside Japan. It began production in 1988.
Altogether, more than 68,000 full-time workers are employed at the state's 440 or so motor vehicle-related facilities. This is nearly 17 percent of Kentucky's manufacturing workforce, according to the U.S. Bureau of Economic Analysis.
But it's only 17 percent, which means that Kentucky manufacturing is much more than just cars.
The Kentucky Cabinet for Economic Development, in a Nov. 8 report, lists 2,433 manufacturing facilities in the state. This includes more than 420 foreign-owned companies from 30 countries, which employ nearly 78,000 people. For instance, eight Indian-owned companies employ some 1,500 Kentuckians. Kentucky also got its first Chinese company this year.
So how does a small state known for horses and hooch become an industrial powerhouse? The answer is leadership.
Kentucky's two-term governor, Steve Beshear, is an aggressively pro-business Democrat in a solidly red state. He lives and breathes "jobs and prosperity." And he has arranged the levers of state government to make "doing business in Kentucky" as easy as possible. The state even has economic development offices in Germany, Japan, and Mexico.
I went to the state capitol in Frankfort recently to meet Beshear in his office.
It was clear from the start that he understands what manufacturers want: "They want the permitting and building process to be as transparent and simple as possible, so they can get their facilities built quickly, with trained workers capable of hitting the ground running," the governor tells me.
When Kentucky was vying for a new flexible packaging plant that an Indian company planned to build, the state had to compete against industrial sites in New Delhi, Dubai, Mexico, and other locations. Kentucky won, and the plant is now under construction in Elizabethtown.
Why was Kentucky chosen? "Because Kentucky is small enough to move quickly and big enough to have the resources to get the job done," the governor says, taking pride in the fact that they "were able to put the deal together in six weeks."
As Jack Welch once said: "Control your destiny, or somebody else will. " They understand that in the Bluegrass State.
Before it's here, it's on the Bloomberg Terminal.
LEARN MORE