A Strong Euro Starts to Worry Europe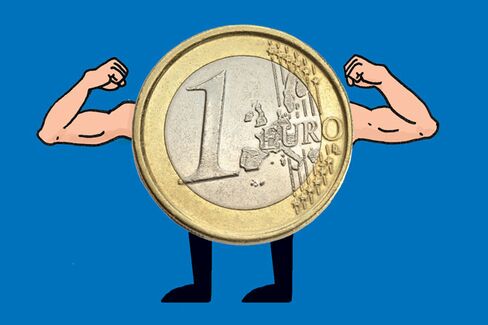 A new obstacle lies in the path of euro zone economies struggling to regain traction. It's the strength of the euro currency, which is trading this week near a 10-month high of $1.34 against the dollar and threatening the competitiveness of European exporters. "Dangerously high" was how Luxembourg Prime Minister Jean-Claude Juncker described the exchange rate in a Jan. 15 speech.
The euro's rise is particularly worrisome for Germany, where exporters are already saddled with increasing labor costs. Berlin on Jan. 16 cut the country's 2013 growth forecast to 0.4 percent, down from 0.7 percent last year. Germany "has been the pillar of confidence for Europe," Daniel Weston, chief investment officer at Aimed Capital Management in Munich, told Bloomberg News. "If exports weaken in Germany, European economic growth is a grave concern."
For now, the European Central Bank is signalling that it won't act to weaken the currency. ECB council member Ewald Nowotny told reporters in Vienna today that the exchange rate was "not a major concern." Central Bank President Mario Draghi said last week that he had no goal for the exchange rate—a view echoed by ECB Executive Board member Peter Praet, who said in a Belgian newspaper interview published today that the rate was "one variable to be factored in, but isn't a goal in itself."
Still, economists at Citigroup in London are forecasting that further strengthening of the euro could propel the ECB to cut the current 0.75 percent benchmark interest rate as early as the second quarter of this year. "European politicians are increasingly worried about the effect of a strong euro on an already weak euro area economy," they wrote in a research note.
Euro zone leaders aren't the only ones fretting about exchange rates. Japan's central bank has moved to weaken the yen in recent weeks, spurring alarms by trading partners whose exports risk losing competitiveness against the Japanese. Bank of Korea Governor Kim Choong Soo warned on Jan. 14 that the yen's softening could provoke an "active response" by Korea.
In Europe, Switzerland has blocked the appreciation of its currency against the euro. And the deputy governor of Norway's central bank, Jan F. Qvigstad, said on Jan. 15 that the strengthening of the Norwegian kroner as a perceived safe haven against the euro could lead Norway to cut interest rates as early as March.
Such comments prompted Alexei Ulyukayev, first deputy chairman of Russia's central bank, to warn that the world is on the brink of a "currency war," violating earlier pledges by major industrialized countries to refrain from "competitive devaluation."
The skirmishing, clearly, has already begun. The Jan. 15 comments by Luxembourg's Juncker and Norway's Qvigstad marked "the first day European policy makers fired a shot in the 2013 currency war," says Chris Turner, head of foreign-exchange strategy at ING in London.
—With reporting by Simon Kennedy, Scott Rose, and Namitha Jagadeesh of Bloomberg News
Before it's here, it's on the Bloomberg Terminal.
LEARN MORE