HP CEO Whitman Dubs Windows 8 a Work in Progress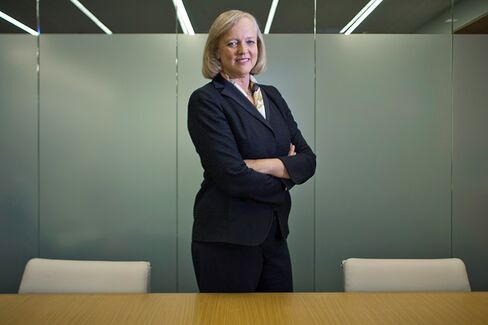 There are plenty of Meg Whitman doubters out there. Some say the former EBay chief executive officer doesn't have the requisite big company experience to run a $120 billion organization like Hewlett-Packard. Others contend that she's more of a smooth talker than a down-and-dirty operator. "What I learned in my political career," Whitman responds, "is that there are lots of pundits. Everyone has an opinion on everything."
In our recent cover story on HP's travails, Whitman dished on her strategy for reviving the electronics maker and how she's the right person for the CEO job. During an hour-long chat at HP's Palo Alto, Calif., headquarters, Whitman talked about a variety of other subjects, too, including her take on Windows 8, smartphones, and HP's top executives. The interview took place on the evening of Jan. 8 after Whitman had spent the day flying around the country. She knocked back a cup of coffee and was her usual affable, smart self.
HP has some of the better-looking Windows 8 machines on sale at the moment, including hybrid units such as the EliteBook 2760p Tablet PC, whose laptop screen can be detached for use as a tablet. These systems have already helped the company claw back some share in the PC market, Whitman says, although on the whole, Windows 8 has not generated a huge sales spike.
"Listen, Windows 8 did not appear to grow the market," Whitman says. "But we are in early days, and the magnitude of the user-interface change and features were substantial. We have to stick with this. I am a believer. We are going to continue to invest in this platform. Whenever you do something of this magnitude in this kind of environment, you have to stick with it."
One thing HP has not stuck with is any kind of coherent smartphone strategy. Back before smartphones became the must-have gadgets, HP actually had a booming iPaq smartphone business and dominated the market. Since then, the company let its own devices languish, bought Palm to try and revive them, and then shut Palm down about 18 months later, following lackluster product sales. During our talk, Whitman reiterated her stance that HP has to have a smartphone—eventually.
"We have a lot of work that has begun," Whitman says. Which means what exactly? Are people just thinking about building a product or are they actually working on one? "We have technologists strategizing about it," Whitman says. "We don't have MBAs strategizing about it." Oh, I see.
If there's one guy who would seem to warrant some blame for HP not having a hot-selling tablet or smartphone, it's Todd Bradley, the company's longtime PC business chief. He—like plenty of folks at Microsoft, Intel, and elsewhere—managed, in devastating fashion, to miss the massive shift toward mobile computing. Whitman seems to have gotten over this and has even put the printing division under Bradley's charge as well.
"Todd took the PC business from $20 billion to $40 billion and from a money-loser to the most profitable PC business in the world," Whitman says. "I wasn't here, but yeah, they missed on mobile. Then they bought Palm to actually figure that out. By the time I got here, they had already shut it down. My view is that when you make an acquisition like that, you have to stick with it. You can't just sort of lose heart. Whose fault is that? I don't know. My view is: It is what it is. You can't change the past."
In other parts of our conversation, Whitman boasted about HP's new Windows 8 tablet and about an upcoming ARM chip-based server, pointing to both products as evidence that HP is starting to find spots where it can innovate. Whitman readily admits that HP has been through the wringer over the past couple of years. Still, she maintains that the company's fundamentals are better than many people think and feels that HP has lots of inventive people who just needed a change to let their talents shine.
HP may be missing products in key areas—and came late to others—but Whitman contends that the effects of cloud computing are just beginning to play out. Companies will change the way they buy devices and software on a grand scale and this disruption should provide HP with opportunities. "We want to capitalize on these big, tectonic plate shifts in the industry," she says. "I would be worried if there wasn't so much change."
Before it's here, it's on the Bloomberg Terminal.
LEARN MORE