Gold Seen Advancing as Much as 14% This Year in LBMA Survey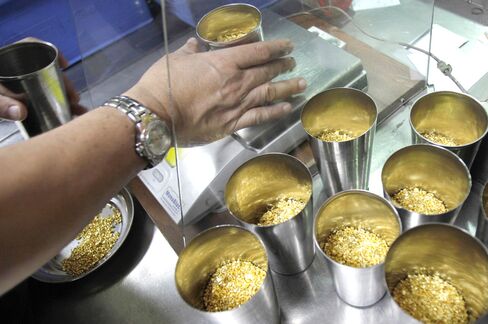 Gold will climb as much as 14 percent this year and average $1,753 an ounce after posting its longest winning streak in at least nine decades, a London Bullion Market Association poll of traders and analysts showed.
The mean response of 23 participants shows the metal will reach $1,914, trading above $1,529 through December. Prices averaged a record $1,669 in 2012. Silver will rise as much as 29 percent, platinum 13 percent and palladium 23 percent, the LBMA said today in an e-mail.
Bullion gained for a 12th consecutive year in 2012 and investors boosted holdings in exchange-traded products to a record Dec. 20 as central banks from Europe to China pledged more steps to spur economic growth. Nations from Brazil to Iraq to Russia are buying metal to add to reserves. Gold will probably peak this year because of improving U.S. growth, even as the Federal Reserve expands stimulus, Goldman Sachs Group Inc. said last month.
"Real interest rates remain negative in many countries and look set to remain negative for some time," Walter de Wet, an analyst at Standard Bank Plc in Johannesburg, wrote today in a report. "As a result, the cost of holding gold and silver relative to cash remains negligible. We are not turning bearish on gold yet."
Gold for immediate delivery traded at $1,673.10 by 1:42 p.m. in London after advancing 7.1 percent last year. The Standard & Poor's GSCI gauge of 24 commodities added 0.3 percent and the MSCI All-Country World Index of equities climbed 13 percent in 2012. Treasuries returned 2.2 percent in the period, a Bank of America Corp. index shows.
Most Accurate
The most accurate forecaster of average gold prices in the LBMA survey last year was Rene Hochreiter, a director and chief executive officer of Johannesburg-based Allan Hochreiter (Pty) Ltd., winning a one-ounce bar of gold. The metal will average $1,600 this year as the U.S. economy improves, he said earlier this month.
Fed minutes released Jan. 3 showed that policy makers may end $85 billion in monthly bond purchases this year. The central bank said Dec. 12 it would buy $45 billion of Treasury securities a month from January, adding to $40 billion a month of existing mortgage-debt purchases. Gold rose 70 percent as the Fed bought $2.3 trillion of debt in two rounds of monetary easing from December 2008 through June 2011.
ETP Holdings
Investors own 2,619.3 metric tons of gold through ETPs now valued at $140.9 billion and equal to almost a year of mine production, data compiled by Bloomberg and Barclays Plc show. The holdings rose 12 percent last year, compared with increases of 9.4 percent for silver products, 16 percent for platinum and 11 percent for palladium, the data show.
Silver for immediate delivery traded at $30.7425 an ounce in London today and will jump as high as $39.75 this year, averaging $33.21, the LBMA survey showed. It reached a record $49.79 in 2011 and climbed 9 percent last year.
Palladium is seen reaching $850.60 an ounce this year, compared with $694.10 now, and will average $744, the survey showed. Platinum was at $1,627 an ounce and is expected to trade as high as $1,845.45 and average $1,682, according to respondents. Both metals are mainly used in vehicle pollution-control devices and in jewelry.
"Fundamentals are set to evolve constructively over the course of 2013" for platinum, Suki Cooper, an analyst at Barclays in New York, wrote yesterday in a report. "Prices will need a stimulant on the demand side to facilitate sustained gains, which we expect to materialize as inventory is run down and tighter auto-emissions legislation implemented."
Before it's here, it's on the Bloomberg Terminal.
LEARN MORE