Sears to Find Out If Lampert Knows Washers From Dryers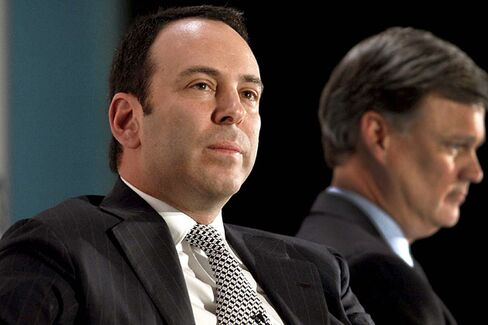 The future of Sears Holdings boils down not to its same-store sales, online strategy, or any of retail's countless other metrics, but this one question: Is Eddie Lampert a budding Warren Buffett or a Willy Loman?
That's long been a question on Wall Street, never more so than this week after Lampert, 50, the chairman of the company and founder and head of hedge fund ESL Investments, inserted himself as Sears's fifth chief executive officer in seven years. You cannot help but wonder if Lampert knows what he wants to do with the retailer/investment vehicle, which is the product of his 2005 smashing together of Kmart and Sears Roebuck.
Out of the gate, the merged entity's first CEO was Alan Lacy, the same guy who led Sears before it sold, following a long-term decline. Within six months, Lampert replaced the legacy exec with fast-food veteran Aylwin Lewis, who was then pushed out to start 2008, amid Sears Holdings' broad reorganization. Then, for more than three years, Lampert allowed the company—in operational decline, and shuttering stores—to be run by an interim CEO. Finally, or so the Street thought, in February 2011 he tapped Louis D'Ambrosio, who had no experience in retail, to become its CEO. D'Ambrosio cited family health issues for his departure.
"I have agreed to assume these additional responsibilities in order to continue the company's recovery and sustain the momentum we are experiencing, as well as further the development of the management team under the distributed leadership model, which provides our business unit leaders with greater control, authority and autonomy," remarked Lampert in Tuesday's announcement. "Working closely with the Board, management and our dedicated associates, we will remain focused on executing our goals, improving operations and building sustainable long-term value for shareholders. All of this starts with delivering great experiences to our Members."
Of which there clearly aren't enough. Though Sears is wringing more cash flow from its stores, the business is still losing revenue. On Monday, the company posted an overall comparable-store sales decline of 1.8 percent for the nine weeks ended Dec. 29, and a 2.6 percent decline for the year.
"While we acknowledge Mr. Lampert's insight and expertise when it comes to 'financial engineering,' we are concerned about his lack of merchandising experience at a time when the retailer is struggling to turn around its core Sears and Kmart chains," wrote Evan Mann of research firm Gimme Credit, in response to the news. "Sears has a lot of work to do righting the ship, despite its sufficient liquidity position. Until we see more evidence of a turnaround, we remain skeptical."
For long, the conventional thinking on Sears was: How can this possibly not turn out well, at least for shareholders? After all, in time, no one was buying Berkshire Hathaway for the quality of its fabrics. And Lampert personally owns a ton of Sears—most recently 22 percent.
Still, none of this can overshadow how Kmart is borderline irrelevant, and Sears is a destination for washers and dryers and drill bits and not much else. Wall Street is no longer giving Lampert the benefit of the doubt. According to Bloomberg data, a majority of analysts rate Sears a sell, with an average price target (from four analysts) that's actually a third lower than where it now trades. "Does it really matter?" writes YCharts editor Jeff Bailey. "Maybe Lampert will install new carpet at headquarters. Or change the logo. But it seems doubtful at this late date that the man who has controlled Sears for nearly a decade—and presided over this stock chart—has any new tricks up his sleeve."
Chris Brathwaite, a Sears spokesman, told Bloomberg News that it is unfair to suggest that Lampert, who is also invested in AutoZone and Gap, doesn't get retail. "There's nobody who cares more about this organization and there's nobody who's invested more," he said. "For continuity of leadership, the board wanted Eddie to step in, take the reins, and keep that momentum going."
And so, for better or worse, Eddie Lampert now has a truly full-time job in the aisles—or at least trying to get more people into them. Or liquidating them.
Before it's here, it's on the Bloomberg Terminal.
LEARN MORE