BOE Seen Refraining From More QE as Credit Plan Assessed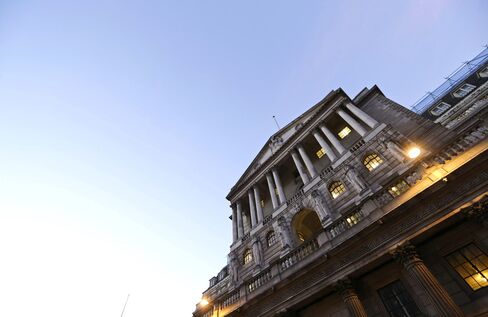 Bank of England policy makers will probably refrain from adding further stimulus to the U.K. economy today as their new credit-boosting program shows early signs of success.
Governor Mervyn King and the Monetary Policy Committee will opt to watch for further progress in the Funding for Lending Scheme and keep the target for quantitative easing at 375 billion pounds ($601 billion), said all 39 economists in a Bloomberg News survey.
Bank of England officials are looking for signs of strength in an economy buffeted by the euro crisis and Prime Minister David Cameron's austerity drive, the deepest since World War II. While the five-month-old FLS is starting to loosen credit conditions, the economy remains at risk of succumbing to a renewed recession.
"The FLS is a much more direct way to support the economy," Joost Beaumont, an economist at ABN Amro Bank NV in Amsterdam, said in a telephone interview. "It seems like it's starting to pay off and I think they will definitely take on board these promising signs. For now, I don't think they will do anymore QE, but that can change."
U.K. policy makers will also hold their benchmark interest rate at a record-low 0.5 percent, according to another survey. The decisions will be announced at noon. The European Central Bank in Frankfurt will also keep its benchmark rate at 0.75 percent today, according to the median estimate of economists.
Carney's Future
While no policy loosening is forecast for today, the recovery's struggle to gain traction may justify further stimulus later this year, according to Kevin Daly, an economist at Goldman Sachs Group Inc. in London. That may be an issue for Bank of Canada Governor Mark Carney, who is set to succeed King at the helm of the U.K. central bank from July.
Additional stimulus is "more likely" to focus on credit-easing measures than bond purchases, said Daly. "But it could also extend to more radical options, including the greater use of policy guidance -– a possibility raised by Carney –- and the direct purchase of bank debt," he said.
At today's meeting, U.K. policy makers will digest mixed economic data with the fact that inflation remains above their 2 percent target. They will also have to assess the state of the global recovery after U.S. lawmakers reached a deal to avert the so-called fiscal cliff and euro-area debt tensions subsided.
The FTSE-100 Index was little changed today after closing yesterday at the highest since May 2008. The pound slipped 0.1 percent to $1.6013 as of 8:39 a.m. London time.
Credit Conditions
The Bank of England's Credit Conditions survey last week showed that availability of mortgages rose "significantly" in the fourth quarter and demand also increased. While there was also an improvement in corporate lending conditions, this was more pronounced for large firms than for small.
A manufacturing index surged to a 15-month high in December, according to another report. Still, services shrank for the first time in two years last month, increasing the chance the U.K. may have contracted in the fourth quarter.
Next Plc, the U.K.'s second-largest clothing retailer, said on Jan. 3 it expects the consumer climate to remain "subdued, but steady" this year. The British Retail Consortium said that Christmas was "underwhelming" for retailers with sales barely rising and the outlook for 2013 is little better.
Cameron said on Jan. 6 that the U.K. is in a "tough economic environment" and government must sustain a "credible strategy" for the budget deficit to keep borrowing costs down. The yield on the 10-year gilt was at 2 percent today, up from a record-low 1.41 percent in July.
More Stimulus
With the recovery still not on a sound footing, economists in a Bloomberg survey forecast the bank will resume bond purchases at some point this year.
"A triple-dip recession is possible, although we currently expect the U.K. to just about avoid" it, said Rob Wood, an economist at Berenberg Bank in London and a former Bank of England official. "Fragile but stable is likely to be the theme for the next couple of quarters as the U.K. continues to work through the triple whammy of squeezed households, squeezed exporters and a large fiscal consolidation."
Policy makers voted 8-1 to keep QE on hold last month and some MPC members may also be averse to adding to stimulus with inflation at 2.7 percent. In the minutes of its December meeting, the MPC noted "substantial risks" to the price outlook, including from "continuing adverse weather" that could disrupt harvests and push up food prices.
"Inflation is another factor that will make them reluctant to do more QE as it's likely to come out a little bit higher than previously expected," Beaumont said. "The first quarter won't be something to write home about, but further out, I expect the economy to recover very gradually, but to recover. If the BOE has the same idea, QE is off the cards."
Before it's here, it's on the Bloomberg Terminal.
LEARN MORE