Will McDonald's Mighty Wings Fly?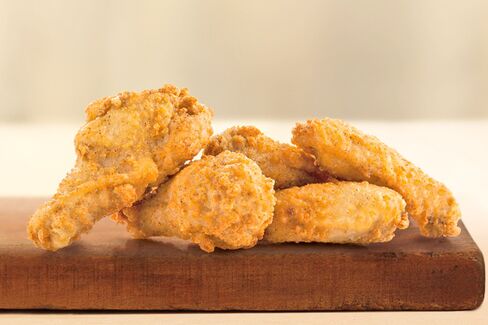 McDonald's has some meaty ideas waiting in the wings. After the successful return of Mighty Wings for a promotion in Atlanta in 2012, the chain will test the fried, bone-in treats in 500 stores in the Chicago area starting this week through early March.
McDonald's is also working on new wraps and salads, but it's chicken wings—too messy for lunch crowds eating in work clothes—that could draw casual dinner customers, says Jack Russo, an analyst at Edward Jones. Currently, dinner represents only about one-fifth of the chain's business. Since the company sells more chicken than beef, and as beef prices are expected to rise, McDonald's is trying new poultry items. In the chicken industry, wings have grown in popularity to become the second-best-selling part behind breast meat.
Although no other tests are planned yet for other cities, "This is a big deal," Russo says. "If they can have a product that tastes good and is priced right, it could work."
Will these wings fly? They're not an easy fit with the McDonald's menu: Starting at $2.99 for three pieces, wings are costlier than nuggets and nearly impossible to eat neatly at a table or in a car.
The chain has tested wings before, with mixed results. As a special promotion in the 1990s, McDonald's offered Mighty Wings with hot sauce at select stores at $2.99 for five pieces. The campaign suffered a setback in 2000, when Newport News (Va.) resident Katherine Ortega claimed to have found an entire fried chicken head in her box of wings. Inspectors found no other chicken heads at the restaurant or the processing plant. Still, the image of the deep-fried noggin was widely circulated online.
The wings survived the debacle, but not the decade. In 2002, Brandweek reported McDonald's was also experimenting with Tabasco Wings as a lower-priced alternative to Mighty Wings—suggesting that consumers felt the cost was too high—and Mighty Wings disappeared from menus in 2003.
Last year they returned. In the Atlanta trial, Mighty Wings cost $3.19 for three and $4.99 for five. That's steep: $4.99 buys 20 Chicken McNuggets—or an equal number of 5¢ wings at a local dive bar.
"The challenge with this chain is consumers expect them to really offer them value, not only convenience," says Russo. The average customer there spends about $5.50.
McDonald's declined a request for interview.
The National Chicken Council notes that when McDonald's began selling Mighty Wings in the 1990s, KFC rolled out Hot Wings a year later, and Domino's Pizza introduced its own wings in 1994. Both companies still sell wings, but these chains may be exploiting wing synergies that McDonald's doesn't have: Wings are a natural fit for chicken specialist KFC, and Domino's surely understood that wings are the Achilles' heel of pizza-scarfing couch potatoes everywhere.
The feedback about Mighty Wings was mixed from Atlanta. One reviewer wrote on Seriouseats.com: "Holy crap, those are really freakin' good." Some consumers on Yelp, however, voiced disappointment about the product, from being "greasy as hell" to "entirely too hot," and noted that $1 per wing is pricey for fast food.
Before it's here, it's on the Bloomberg Terminal.
LEARN MORE