Broadcom's New Chips Aim to Smarten Your Smartphone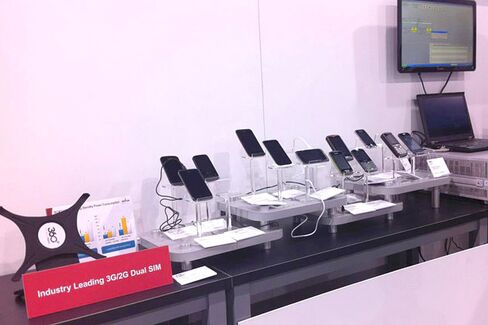 Broadcom is still trying to keep up with mobile-processor designers, including Apple, Samsung, Qualcomm and Nvidia. On Tuesday, Broadcom announced that it has licensed the ARMv7 and ARMv8 chip architectures, allowing the company to develop and build its own high-performing ARM-based processors.
The company is playing coy with definitive chip plans, saying only that this agreement will enable "a broad range of market applications including broadband access and set-top box."
I have little doubt the company will look to build optimized chips for multiple device segments, but lets be honest: The hottest market is the one for smartphones. Only a seventh of the world's population owns a smartphone these days and the pace of adoption is picking up; not getting into this market soon could miss a ride up the sales growth curve. And this isn't the first time Broadcom has been an ARM licensee: In 2011 the company noted it had a long-term chip strategy that included application processors.
Broadcom is currently known more for its wireless chip technologies, not for systems-on-a-chip that also include CPUs and graphics capabilities like the ones made by the companies listed above. But there are plenty of reasons for companies to build an entire chip solution for mobile devices. By designing chips that are optimized for certain features, such as energy-efficient wireless technologies or high-powered graphics rendering, chip-makers can differentiate their silicon and charge more for their products.
A perfect example of this is Nvidia, which has a rich background in graphics. By licensing the ARM architecture, the company was able to make a complete system-on-a-chip for smartphones and tablets that uses a dozen graphics cores for fluid interfaces and gaming.
The company's next chip, the Tegra 4, will include 72 graphics cores. One thing previously missing from Nvidia's bag of tricks, however, was wireless communication, a weakness that was addressed when the company bought Icera in 2011.
Broadcom's approach is the complete opposite, but could turn out similarly. The company has a rich background in Wi-Fi, Bluetooth, and other radio technologies, and those wireless chips are often used by other chip-makers to augment stand-alone application processors. Now, with the new ARM license, the company has a processor strategy it can integrate with its wireless smarts.
That's good for two reasons. First, a full-system-on-a-chip solution can generate far more money than wireless-only chip. Second, more companies with applications processors are integrating their own wireless solutions. This would mean that over time, fewer device makers will need Broadcom's more generic wireless chips.
Simply put, Broadcom needs to expand its offerings to include more system-on-chip products if it wants to compete, grow, and evolve in the future. Sure, some of the company's plans could apply to set-top boxes, smart appliances, or other market segments. But in order to keep a foothold in the mobile-device market, Broadcom's move ensures it will stay relevant in one of the biggest and fastest growing segments: smartphones.
Also from GigaOM:
How Operators Can Manage the Signaling Storm in 2013 (subscription required)
T-Mobile Appeals with Free 4G in Laptops; No-Contract Unlimited Smartphone Data
Scoop: Google TV to Take on Apple TV, Roku with Pure Streaming Boxes
13 Solar Startups to Watch in 2013
How Cheap Will a Low-Cost IPhone Be? $99-$149
Before it's here, it's on the Bloomberg Terminal.
LEARN MORE