Podcast: Sheila Davis, Executive Director of the Silicon Valley Toxics Coalition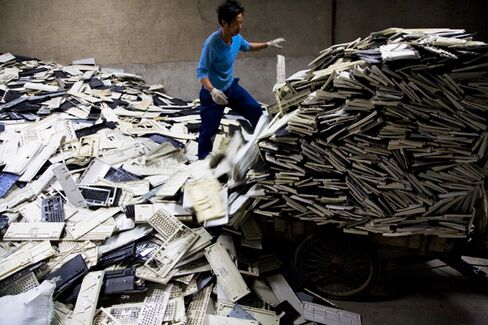 Bloomberg Businessweek contributor Verne Kopytoff talks with Sheila Davis, executive director for the Silicon Valley Toxics Coalition, about the impact of e-waste. Her nonprofit has long advocated greater recycling of computers, monitors, and printers, which contain toxic materials like cadmium, lead, and chemical fire retardants. About only a quarter of all electronic waste in the United States is recycled.
CEO Tech Guide Podcast Archive:
• Sheila Davis, Executive Director for the Silicon Valley Toxics Coalition
• David Walters, Director of Global Safety and Security for Cisco Systems
• Turner Broadcasting's Balaji Gopinath on Turner's Media-Startup Accelerator
• Fortinet's Patrick Bedwell on How to Secure Corporate Secrets
• Why Automattic Lets All Employees Work From Home
• Why Use the Cloud?
• IBM's Jay Henderson on Mobile Marketing
• Stanford's Ravi Belani on the Alchemist Accelerator
• Forrester Research Analyst Paul Hagen
• Forrester Research Security Analyst Ed Ferrara
• Head of North American Wind Analysis
• DIY Apps at Work
• Using a Printer to Make Products
• Stopping Crime Before It Starts
• Why Money Can't Buy Innovation
• The Strategic CIO
• Getting a Computer to Play Jeopardy
• Hottest Tech Jobs
• Call It 'Work-Around Tech'
• One Hacker Sets Sights on 3D
• A Home for Internet Data
• Is Gamification Serious Business?
• Getting a Feel for Your Customer
• Where to Find Microwork
• Pay by Phone on the Horizon
• The Cloud Goes Corporate
• The Post-PC Era
• Companies Use World's Fastest Computers
• Open Innovation
• Old Tech, New Generation
• Bringing iPads to Work
• Tracking the Oil Spill with Robots
• Motivating Workers to Pay Attention to Health
• Companies Defend Against Cyber Attacks
• Insecure
• Insurance for Patent Trolls
• Companies Prepare to Upgrade PCs
• Context-
• Augmented Reality on Smartphones
• The Smart Grid
• The Outlook for Tech Jobs
• Rural Broadband
• Laptop Security
• Carbon Footprints at Work
• Your iPhone Can Work on the Job
• E-Health for All Americans
• Intelligence Software for Business
• CEO Guide to Tech
• Virtual Desktops
• Open-Source Software
• Finding Bargains on Secondhand IT
• Making Prototypes for 3D Printing
• Microblogging for Businesses
• Corporate Cloud Computing
• Disaster Tech
• Innovation Contests
• Virtual Worlds at Work
• Offshoring Bargains
• The CEO Guide to Widgets
• Energy Crisis in Data Centers
• Semantic Web Podcast
• Corporate Wikis
• Virtual Workplace Podcast
• Video Blogging
• Where the Workers Are
• Enterprise Mashups Podcast
• The CEO's Guide to RFID
• The CEO's Guide to Social Networks
• The CEO Guide to Prediction Markets
• The CEO's Guide to VoIP
• O'Reilly's Guide to Web 2.0
Before it's here, it's on the Bloomberg Terminal.
LEARN MORE