Generali to Buy 49% Stake in PPF Venture for $3.3 Billion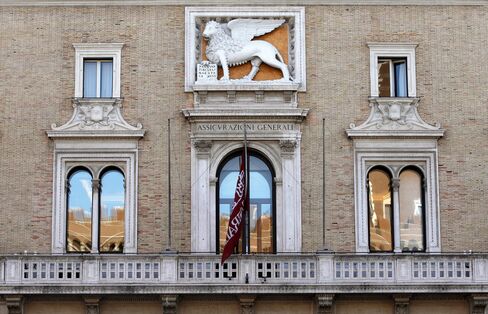 Assicurazioni Generali SpA, Italy's biggest insurer, agreed to buy the 49 percent stake it doesn't own in its eastern European venture with private-equity firm PPF Group NV for 2.5 billion euros ($3.3 billion).
Generali will acquire about half the stake by March 28 for 1.29 billion euros and the rest at the end of 2014, the Trieste, Italy-based company said in a statement today. The insurer will use December bond sale proceeds to finance the first purchase with part of the amount reimbursed to Generali for PPF debts.
Generali and Amsterdam-based PPF, controlled by Czech billionaire Petr Kellner, formed the joint venture in 2007, combining their insurance assets in eastern Europe to create a company with 9 million customers in 12 countries. Generali Chief Executive Officer Mario Greco, who pursued the deal as part of a plan to boost profit from emerging markets, said the insurer won't need a capital increase to fund the second tranche.
"The deal is positive because it allows Generali to take the control of the venture without need of capital increase," Alberto Villa and Michele Ballatore, analysts at Intermonte SIM SpA, who have an outperform recommendation on the stock, wrote in a note today.
Generali rose as much as 1.7 percent, and was up 1.2 percent to 14.53 euros at 12:20 p.m. in Milan, giving the company a market value of 22.6 billion euros. The Bloomberg Europe 500 Insurance Index fell 0.3 percent, paring its gain over the past six months to 27 percent. Generali rose 46 percent over that period.
Cash Generation
The net amount payable in the first part of the purchase will be about 1.1 billion euros, while it will be about 1 billion euros for the second tranche, the insurer said.
Generali doesn't need external funding to pay the second tranche of the transaction, Greco said on a conference call. "Generali's 1.5 billion-euro cash generation each year is enough to cover the purchase," he said, ruling out any need of a capital increase.
The agreement includes a dividend payment of 352 million euros in the first quarter of 2013 and a payout representing 66 percent of the joint venture profit in 2013 and 2014, PPF said in a separate statement.
"The agreement with Generali means an end of an important era for PPF," Kellner said in the statement. "The conditions of the sale and the dividends we earned in past five years gave us an excellent return on our original investment."
Russian Opportunities
The two companies also agreed to swap some assets, including the combined 38.5 percent stake in Russian insurer OEO Ingosstrakh, which will be transferred to Generali. The insurer will sell PPF its consumer finance insurance operations in Russia, Ukraine, Belarus and Kazakhstan for 80 million euros.
The purchase will allow Generali to align its strategy for these assets with its priorities, said Greco, adding that a decision on the business "will take time." Former CEO Giovanni Perissinotto was in talks with Russian billionaire Oleg Deripaska, the owner of the majority stake in the Moscow-based Ingosstrakh, on the company's strategy and management.
"Russia is not an easy market," said Greco, adding that Generali would weigh opportunities in coming years. "We will carefully follow any changes in the market, even if at this point we haven't any specific target for it."
Greco said that the insurer doesn't plan to exit any other market in the region.
Asset Disposals
Generali will sell assets to improve its capital position and reduce debt as part of a plan to be announced Jan. 14, Greco said. Generali is already selling its U.S. life reinsurance business and Swiss asset-management unit BSI Group because they aren't strategic assets.
"We are about to receive the non-binding offers by the end of this week and the process is going as expected," Chief Financial Officer Alberto Minali said during the conference call. "There is an interesting proposition from some counterparties for both assets, so, I don't see any obstacle in the disposal process which will generate additional cash and capital for the group."
Generali has hired Citigroup Inc. to advise on the sale of Generali USA Life Reassurance Co. and the unit may be worth $800 million to $1 billion, people with knowledge of the matter have said.
The insurer posted third-quarter profit of 291 million euros from 20 million euros a year earlier after writedowns on Greek bonds and stakes in Italian companies weren't repeated. Generali is targeting more than 4 billion euros of operating profit in 2012 and expects non-life premiums to climb, while life premiums will match 2011 level.