India's ITC Declines as Sensex Completes Best Year Since 2009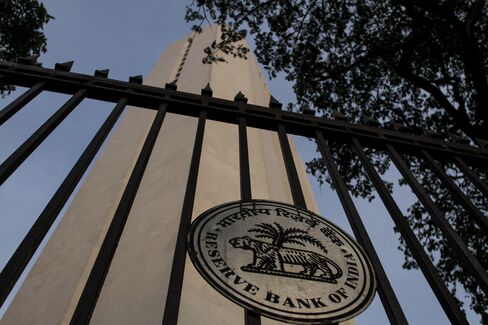 Shares of Indian consumer-staple companies fell, countering gains among utilities, as the benchmark BSE India Sensitive Index completed its biggest annual advance since 2009.
The Sensitive Index, or Sensex, lost 0.1 percent to 19,426.71 at the close in Mumbai, after changing direction at least 27 times. Volumes on the index were 48 percent lower than the 30-day average. Gail India Ltd. led utility stocks higher while ITC Ltd., which has the highest weighting in the Sensex, paced declines among consumer-staple shares. Wipro Ltd. advanced for a third day after shareholders approved a plan to separate its consumer care and lighting businesses.
The Sensex rallied 26 percent this year, the most since an 81 percent surge in 2009, amid government steps to open the economy to offshore investment. Lower savings, "relatively high" inflation and moderating investment and consumption have boosted risks to the economy, the Reserve Bank of India said in its biannual Financial Stability Report on Dec. 28. Europe's debt crisis and the so-called fiscal cliff in the U.S. offer "major downside risks" to global growth, the RBI said.
"Allocation to defensive stocks is decreasing," Jitendra Panda, head of institutional sales at Future Capital Holdings Ltd. in Mumbai, said by phone. "The U.S. fiscal cliff remains an area of concern and markets would keenly watch it."
Budget Deficit
Overseas funds have been net buyers of Indian shares worth $24.2 billion in 2012, the highest inflows among 10 Asian markets tracked by Bloomberg, excluding China. Foreign funds sold $4.5 million of domestic stocks on Dec. 27, ending 29 straight days of buying, data compiled by Bloomberg show.
In the U.S., Congress worked with little more than a day remaining to avert more than $600 billion of tax increases and federal spending cuts. There were still "significant differences" between Democrats and Republicans, Senate Majority Leader Harry Reid said yesterday. The U.S. accounted for 11 percent of India's exports in the six months to September 2011, commerce ministry data show.
India's April-November budget deficit reached 4.13 trillion rupees, the Controller General of Accounts said in a statement on its website today. That's 80.4 percent of the 5.14 trillion-rupee target for the year ending March 31. The RBI will release today the nation's current-account balance for the quarter ended Sept. 30.
Largest Managers
Finance Minister Palaniappan Chidambaram has pledged to narrow the budget gap to 5.3 percent of gross domestic product for the fiscal year ending March, from 5.8 percent the previous 12 months. Last year's deficit was the widest among the largest emerging markets, fanned by subsidies on items from diesel to fertilizers. Prime Minister Manmohan Singh began a wave of policy announcements in September that included raising diesel prices and opening the economy to more foreign investment.
India's largest money managers said this month the wave of policy making is drawing them to shares of companies that stand to benefit most from an economic recovery. Sunil Singhania, head of equities at Reliance Capital Asset Management Ltd., is buying property and engineering stocks, while Sampath Reddy, Bajaj Allianz Life Insurance Co.'s chief investment officer, is selling drugmakers and telecommunications shares in favor of mining companies.
Gail India climbed 1.6 percent to 356.75 rupees, the most on the Sensex today. Tata Power Co. rose 1 percent to 110.35 rupees, its highest close since Dec. 4. India's largest real-estate developer DLF Ltd., which is not a Sensex constituent, rallied 2.5 percent to 230.60 rupees. Punjab National Bank, whose shares have gained the least this year on the BSE Bankex Index of 14 lenders, jumped 3.4 percent to 871.30 rupees, the most on the gauge today.
Best Performers
The Sensex's rally this year has driven its valuation to 15.4 times estimated earnings, near the highest levels since March, data compiled by Bloomberg show. The MSCI Emerging Markets Index trades at a multiple of 12.1.
Tata Motors Ltd., the owner of British luxury car brands Jaguar and Land Rover, is the best performer on the 30-stock Sensex this year, having surged 75 percent. Infosys Ltd., the second-largest Indian software exporter, is the worst performer, with a 16 percent slide.
Wipro, the third-largest software exporter, jumped as much as 1.7 percent before closing 0.6-percent higher at 394.5 rupees today, the highest close since Dec. 3. The company agreed last month to separate its consumer care and lighting businesses, a move that will help it focus on information technology, which accounted for 86 percent of revenue in the year ended March 31.
ITC, which owns businesses ranging from cigarettes to hospitality, lost 0.9 percent to 286.8 rupees, leading the MSCI India Consumer Staples Index down by 0.3 percent. The stock, which was the biggest drag on the Sensex, closed at its lowest level since Nov. 23.
The S&P CNX Nifty Index on the National Stock Exchange of India fell 0.1 percent to 5,905.10, while its January futures traded at 5,950. The BSE Mid-Cap Index added 0.3 percent to end 2012 with a 39 percent gain. India VIX, which gauges the cost of protection against losses in the Nifty, rallied 10 percent to 14.95, the most in a month, data compiled by Bloomberg show.