Pimco's Gross Sees Less Return, Stubborn Unemployment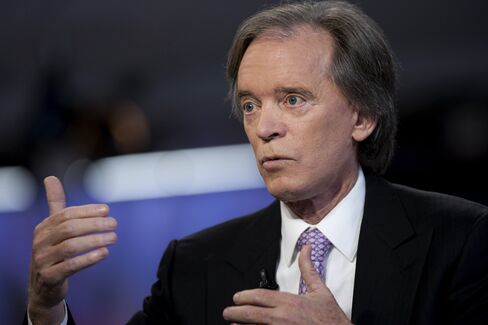 Dec. 30 (Bloomberg) -- Pimco's Bill Gross, manager of the world's biggest bond fund, expects stocks and bonds to return less than 5 percent in 2013 as high unemployment persists, he wrote in a Twitter post.
* Gross wrote: "2013 Fearless Forecasts: 1) Stocks & bonds
return less than 5%. 2) Unemployment stays at 7.5% or
higher. 3) Gold goes up." * Message reaffirms what he wrote in Dec. investment outlook,
which said "structural headwinds" may lower real eco.
growth below 2% in U.S., other developed nations.
Story Link:NSN MFUWBM1A1I4H<GO>
For Related News and Information: First Word scrolling panel: FIRST<GO> First Word newswire: NH BFW<GO>
To contact the reporter on this story: Joe Sabo in New York at +1-212-617-8959 or jsabo@bloomberg.net
To contact the editor responsible for this story: Joe Sabo at +1-212-617-8959 or jsabo@bloomberg.net