Indian Stocks Rise First Time in Three Days; Tata Motors Jumps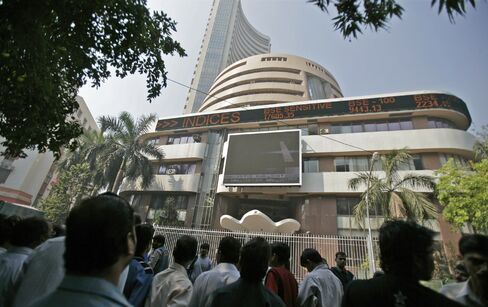 Indian stocks advanced for the first time in three days. Software exporters and consumer discretionary companies led the climb.
The BSE India Sensitive Index, or Sensex, rose 0.1 percent to 19,255.09 at the close, with volumes on the gauge matching the 30-day average. Infosys Ltd., the second-largest software exporter, added 1.1 percent, paring its year-to-date loss to 16 percent. Sun Pharmaceutical Industries Ltd., the most valuable drugmaker that earns more than half its revenue from abroad, increased the most in a week. Tata Motors Ltd. jumped 2.5 percent, the biggest boost to the Sensex.
Stocks retreated last week amid concern U.S. lawmakers and President Barack Obama will fail to agree on a budget deal by year-end, thereby triggering more than $600 billion in tax increases and spending cuts. The Sensex has climbed 25 percent this year, its biggest rally since 2009, as government steps to open the economy to offshore investment lured foreign funds.
"Investors are hunting for bargains such as software stocks, which have not performed this year, and are adding drugmakers and carmakers as they will benefit from a recovery in growth and easing in interest rates," D.K. Aggarwal, chairman of SMC Investments & Advisors Ltd., which has about $100 million in assets, said by phone from New Delhi today.
Infosys increased 1.1 percent to 2,322.3 rupees, while larger rival Tata Consultancy Services Ltd. added 0.6 percent to 1,266.2 rupees. Wipro Ltd., the third-biggest software maker, jumped 1.7 percent to 385.95 rupees. The BSE IT index has slid 1.4 percent this year.
Jaguar Land Rover
Sun Pharmaceutical surged 1.6 percent to 740.85 rupees, extending this year's rally to 49 percent. Tata Motors, owner of Jaguar and Land Rover, soared 2.5 percent to 306.95 rupees. The stock has jumped 72 percent this year. Hindustan Unilever Ltd. gained 0.9 percent to 531.7 rupees.
The S&P CNX Nifty Index on the National Stock Exchange of India Ltd rose 0.1 percent to 5,855.75. India VIX, which gauges the cost of protection against losses in the Nifty, lost 1 percent to 14.49, data compiled by Bloomberg show.
Prime Minister Manmohan Singh's administration began a campaign in mid-September to revive economic growth from the weakest levels since 2009 and avoid a credit-rating downgrade by paring fuel subsidies, and opening up retailing and aviation to foreign investment. The passing of a banking bill on Dec. 18 was the latest in the series of such measures.
Overseas funds were net buyers of domestic stocks for a straight 27th day on Dec. 21, taking net purchases in 2012 to $23.3 billion, the highest among 10 Asian markets tracked by Bloomberg, excluding China, data compiled by Bloomberg show.
"Continuous foreign inflow shows India is likely remain the top pick for global investors in the new year too," SMC's Aggarwal said.
The market is closed tomorrow for Christmas.