Danish Economy Grew More Than First Estimated Last Quarter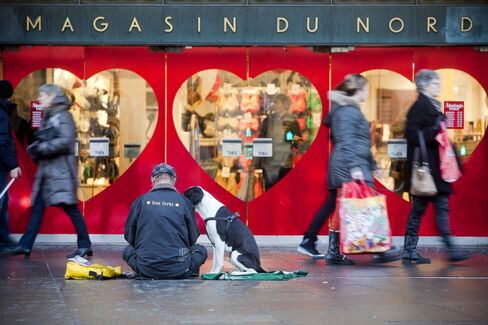 Dec. 21 (Bloomberg) -- Denmark's economy expanded at a faster pace than first estimated last quarter as government spending grew, inventories swelled and businesses invested more.
Gross domestic product expanded 0.3 percent from the second quarter, versus a November estimate for 0.1 percent growth, Statistics Danmark said in a statement on its website today. Output shrank 0.3 percent from a year earlier, less than the 0.5 percent initially reported, the Copenhagen-based office said.
"The revision stems from upgrades in public spending and inventory investments, which are the two most backward looking components of GDP," Steen Bocian, chief economist at Danske Bank A/S in Copenhagen, said in a telephone interview. "It says the least about future growth. The revision gives no indication that things are looking better in anyway."
Denmark has yet to recover from a real estate slump that's pushed at least a dozen banks into insolvency since 2008. The International Monetary Fund last month urged the government to consider direct stimulus measures to avoid a recession as house prices continue to sink. Property values have lost more than 20 percent since their 2007 peak and will probably drop 4.7 percent this year, the government-backed Economic Council said Nov. 1.
Exports, Spending
Exports fell 1.1 percent from the previous quarter while consumer spending dropped 0.4 percent, the office said. Fixed investment grew 0.8 percent, and inventories rose 0.4 percent, it said. Public expenditure grew 0.4 percent.
The government this month predicted the economy will probably contract 0.4 percent this year, matching a decline in the 17-member euro area.
While Danish households carry the world's highest debt load relative to disposable incomes, at 322 percent in 2010, the government of Prime Minister Helle Thorning-Schmidt boasts a public debt burden that's less than half the euro-zone average. That's helped AAA rated Denmark emerge as a haven from Europe's fiscal crisis and kept borrowing costs low.
Denmark's benchmark 10-year note yielded 1.14 percent as of 9:05 a.m. in Copenhagen, or about 26 basis points less than similar-maturity German bunds.
The central bank has sought to counter the capital influx by cutting interest rates to record lows. Governor Nils Bernstein reduced the bank's deposit rate to an unprecedented minus 0.2 percent in July to prevent the krone strengthening beyond the limits of its peg to the euro.
To contact the reporters on this story: Peter Levring in Copenhagen at plevring1@bloomberg.net;
To contact the reporter on this story: Frances Schwartzkopff in Copenhagen at fschwartzko1@bloomberg.net