Bove Moves to Rafferty as Errant Apple Trade Rocks Rochdale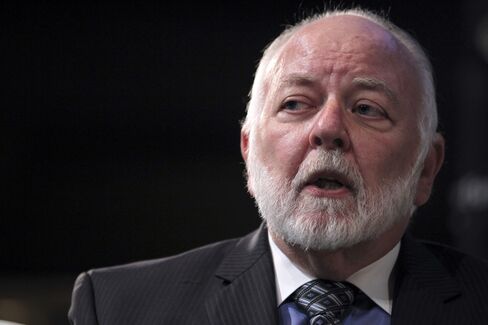 Dick Bove, the bank analyst whose employer, Rochdale Securities LLC, is struggling to survive after an unauthorized $1 billion Apple Inc. trade, will join Rafferty Capital Markets LLC.
Bove, 71, will lead research in financial services companies, Garden City, New York-based Rafferty said today in an e-mailed statement. Speculation about Bove's status swirled after regulators ordered Stamford, Connecticut-based Rochdale to halt operations because of losses on the Apple trade and five traders jumped to Rafferty.
"The firm is well-established and has a commitment to independent research, the type I've enjoyed producing for many years," Bove said in the statement.
Rochdale President Dan Crowley has struggled to hold onto his staff while seeking a deal to keep his 37-year-old brokerage afloat. Bove said previously that he wouldn't leave until Crowley "threw in the towel" on finding a rescuer. Crowley didn't respond to inquiries about the firm's fate.
Former Rochdale trader David Miller was charged this month with wire fraud in connection with the unauthorized trade, which caused a $5 million loss. He was released on $300,000 bail, prosecutors said. Kenneth "Casey" Murphy, Miller's lawyer at Simon & Partners LLP, declined to comment on the charges at the time.
Rafferty Losses
Rafferty, which is closely held, grew out of a company co-founded by Larry Rafferty in 1987, according to its website. The brokerage lost $3.2 million from continuing operations last year on revenue of $8.9 million after selling its bond businesses, according to a February filing with the U.S. Securities and Exchange Commission.
The Rochdale traders who defected to Rafferty included Kristen Talgo and Hal Tunick, who led institutional equities trading and held ownership stakes in Rochdale of as much as 25 percent each, according to Financial Industry Regulatory Authority records.
Bove, who's worked in the securities industry since 1965, has moved markets with predictions about bank stocks. He cut ratings on Goldman Sachs Group Inc., Merrill Lynch & Co. and Lehman Brothers Holdings Inc. to sell in May 2008, citing concern that earnings would falter.
Bove reversed his call on Lehman in August, three weeks before it filed for bankruptcy. Merrill Lynch sold itself to Bank of America Corp. and Goldman Sachs converted to a bank holding company from a securities firm.
Bove Bullish
Since the financial crisis, Bove has been largely bullish on the U.S banks. He said in an Oct. 18, 2010, Bloomberg Television interview that Citigroup Inc. shares might double in a "couple of years." The shares have dropped about 5 percent since to $39.46 at yesterday's close.
On Sept. 22, 2009, he called Bank of America's stock "incredibly cheap." Shares have since fallen 35 percent to $11.36 as of yesterday.
Bove left his previous brokerage, Ladenburg Thalmann Financial Services Inc., in 2009 after a disagreement with the Miami-based firm over settling a defamation lawsuit. He had been sued by BankAtlantic Bancorp over a report he wrote in August 2008 that said it might fail. The lender sold most of its assets to BB&T Corp., a Winston-Salem, North Carolina-based bank, this year.
Before it's here, it's on the Bloomberg Terminal.
LEARN MORE