Vodafone Franchise Taps Iceland's Captive Cash in Revival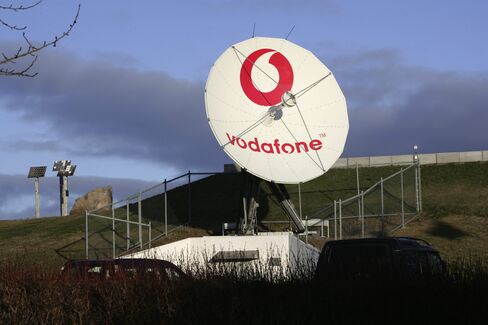 The owners of Vodafone Iceland Fjarskipti hf have cashed in as capital controls are steering investors to equity offerings and reviving the Atlantic island's stock market four years after its collapse.
The second-largest phone carrier on the island, a franchisee of Vodafone Group Plc, will start trading today in Reykjavik after its largest owner sold 60 percent in a 6.3 billion kronur ($50 million) initial public offering. The company will become the 11th company on the Nasdaq Group OMX Inc.-owned exchange, which had 75 companies listed 13 years ago and as many as 48 in 2003.
The island put capital controls in place in 2008 after the country's economic and financial collapse triggered a sell-off in the krona. That has trapped about 1 trillion kronur in funds on the island, which are now boosting the local stock market and have also triggered a surge in home prices.
"Institutional investors such as pension funds are extremely enthusiastic about this market getting back on its feet," said Pall Hardarson, the head of the country's 339 billion kronur stock exchange, by phone last week. "One of the concerns in the market is that the capital controls are skewing the prices, due to the economy being closed. Whether or not a bubble is forming is a different matter."
Fjarskipti shares rose to as high as 32.6 kronur in Reykjavik today, and traded little changed at 32.25 kronur as of 10:23 a.m. local time.
Needs Discipline
While Iceland's crisis-management policies have helped lift the $13 billion economy from financial failure into a nation that's now outgrowing Europe, the authorities are struggling to ease krona controls. The government has indicated that it won't remove the controls until at least 2015 and the International Monetary Fund has said the country should scrap the timetable and make any easing conditions-based.
The country needs to be "more disciplined" in easing the restrictions as it also raises potential risks, according to Hardarson.
"Removing the capital controls doesn't become easier as more time passes," he said. "The risk is that as more time passes, prices become so skewed that investors become concerned about having the capital controls removed. Or that when the controls are removed, asset prices come tumbling down, regardless of whether that's real estate, stocks or bonds."
Omar Svavarsson, the local chief executive officer of Vodafone, isn't concerned at being among the first to re-enter Iceland's stock market after its 2008 collapse.
Following Footsteps
"We see a diverse and lively market and already many strong companies have expressed an interest in listing," said Svavarsson. "More companies, similar in size to Vodafone, will follow in our footsteps."
In the company's offering, a total of 201,387,120 shares were sold by the Enterprise Investment Fund, which is majority owned by 16 Icelandic pension funds. After the offering, EIF remains the largest shareholder with a 19.7 percent stake. Vodafone has no direct ownership in the company.
Iceland, whose 2008 banking default on $85 billion pushed the economy into a recession that lasted through the first half of 2010, will see its economy expand 2.5 percent this year and 2.9 percent in 2013, according to the central bank. The output of the 17 countries sharing the euro will contract 0.4 percent in 2012, before growing only 0.1 percent in 2013, the European Commission said on Nov. 7.
Iceland's pension funds, which hold 2 trillion kronur in assets, are eager to find more investments said Lydur Thorgeirsson, a director at Reykjavik-based asset manager Gamma.
The investment scope of pension funds "is very restricted by law, in particular when it comes to non-listed instruments," Thorgeirsson said by phone. "Vodafone's listing is definitely positive for Iceland's stock market."
Investing in Icelandic stocks has paid off. Consumer retailer Hagar hf has risen 30 percent since listing in December last year while national carrier Icelandair hf has seen its stock surge 56 percent in 2012, leading the index of the country's six most traded stocks to an 11 percent gain this year. BankNordik P/F is down 9.9 percent.
"We believe that valuations are generally still depressed and that the stock market has some way to go before it reaches any top or a peak," said Thorgeirsson.
Before it's here, it's on the Bloomberg Terminal.
LEARN MORE