UPS's Fresh Offer to EU in TNT Bid Said to Face Market Test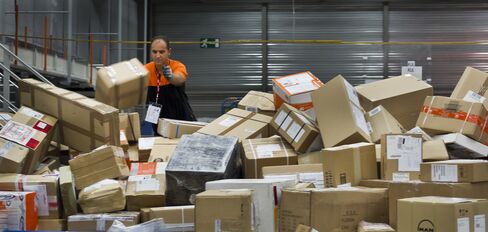 United Parcel Service Inc.'s revised concessions in the European Union review of its bid for TNT Express NV were sent today to rivals and customers for comments, a person familiar with the matter said.
UPS, the world's largest parcel-delivery company, has modified an initial offer that included the sale of some business units and granting access to its air network, according to a person who asked not to be identified because the EU negotiations are confidential. The new offer covers both the divestments and network access, the person said. The EU has asked for responses by midnight tomorrow in Brussels.
UPS has twice pushed back the date to complete the 5.16 billion-euro ($6.8 billion) deal, the biggest acquisition in its 105-year history, as the merger review continues. The deal would double the Atlanta-based company's size in Europe.
TNT shares rose 3.5 percent to 8.21 euros at the close in Amsterdam, the most in two weeks. The stock has been trading below UPS's 9.50 euro-a-share offer on investor skepticism that the deal goes through. UPS added 2.3 percent to $75.05 at the close in New York, the most since Oct. 23.
UPS previously offered to sell TNT businesses mainly in smaller European markets, two people familiar with the matter said earlier this month. The concessions cover 13 of the EU's 27 states and exclude Germany, France, Italy, Spain and the U.K., they said.
Competition Criteria
UPS and the European Commission declined to comment on any offer. Reuters reported the remedies offer earlier today.
EU Competition Commissioner Joaquin Almunia said this month that authorities wanted to make way for another competitor because of the deal. Regulators "cannot afford" to allow Europe's delivery industry to proceed with only two parcel-delivery firms that offer air-freight services, he said, without mentioning specific companies.
Regulators sent formal objections to UPS in October, saying TNT and Deutsche Post AG's DHL, the market share leader, are UPS's main competitors for next-day express deliveries within Europe, according to a person familiar with the regulators' complaint.
UPS's bid for TNT required "substantial remedies" to eliminate EU antitrust concerns, Almunia said in a Nov. 2 speech. The EU still has time before it needs to prepare a decision on the UPS-TNT deal, he said earlier this month.
"After Christmas we will need to have a draft decision and for this time we will need to make up our final opinion regarding the capacity of the remedies finally proposed by UPS and TNT," he told reporters on Dec. 5.
Before it's here, it's on the Bloomberg Terminal.
LEARN MORE