Toshiba Plans to Sign $1.9 Billion Loan This Month to Repay Debt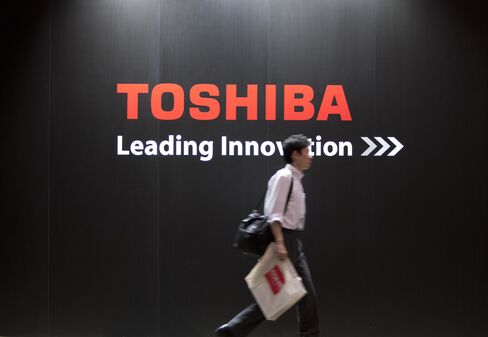 Toshiba Corp., Japan's biggest reactor maker, plans to sign a 160 billion yen ($1.9 billion) syndicated loan this month to refinance debt and help pay for an acquisition, three people familiar with the matter said.
The two-tranche facility will include a five-year term loan priced at 7 basis points more than the three-month Tokyo interbank offered rate, the people said, asking not to be identified because the details are private. Mizuho Financial Group Inc. and Sumitomo Mitsui Financial Group Inc. are arranging the debt, the people said.
Toshiba has 110.5 billion yen of bonds and loans maturing next year including 50 billion yen of notes due January, according to data compiled by Bloomberg. The company, which makes products ranging from aerospace components and nuclear reactors to notebook computers, may use the funds to help buy out Shaw Group Inc.'s 20 percent stake in its Westinghouse Electric Co. unit, the people familiar with the matter said.
Atsushi Ido, a Tokyo-based spokesman at Toshiba, said he wasn't immediately ready to comment on the financing when reached by telephone today.
The five-year term part of the loan will account for about 70 percent of the total facility, the people said. The remainder will be a three-month commitment line which, if used, becomes a five-year term loan, the people said. The loan agreement may be signed as early as this week, one of the people said.