Principal Sold Gunmaker Before Slump, MetLife Didn't Buy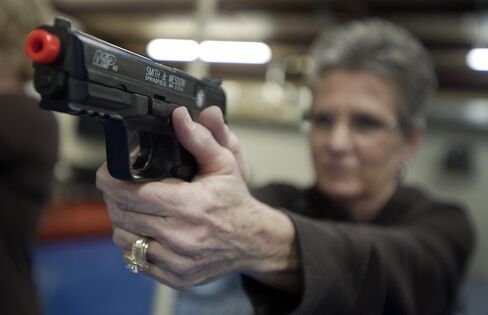 Principal Financial Group Inc., the provider of retirement-services, avoided declines in Smith & Wesson Holding Corp. by selling shares in the first two months of this quarter, a spokesman said.
Principal was the fifth-largest investor in the gunmaker as of Sept. 30, with about 1.9 million shares, a stake of 2.9 percent, according to data compiled by Bloomberg. Smith & Wesson declined 10 percent to $7.79 as of 4 p.m. in New York, extending its slump to 18 percent since the day before a gunman killed 20 students in a Connecticut elementary school last week. The stock closed at $11.02 at the end of September.
"We significantly reduced our holdings in SWHC during the months of October and November," said Adam Lackey, a spokesman for Des Moines, Iowa-based Principal in an e-mail using the gunmaker's ticker symbol. "Therefore, it's very likely that we are no longer one of the largest shareholders."
U.S. Senator Dianne Feinstein, a California Democrat, has said she'll introduce in the new Congress convening in January legislation to reinstate a federal ban on assault weapons that expired in 2004.
Principal, the seller of life insurance and mutual funds, counts Apple Inc. and Exxon Mobil Corp. among its largest equity holdings. Lackey declined to provide further details on the investment in Springfield, Massachusetts-based Smith & Wesson.
The insurer gained 3.1 percent to $28.70, the biggest jump since August. Principal advanced 17 percent this year, beating the 16 percent gain in the 24-company KBW Insurance Index.
MetLife Inc., the largest U.S. life insurer, has "no material exposure to gun manufacturers," said John Calagna, a spokesman for the New York-based company, in an e-mail after markets closed. "MetLife has specifically passed on these type of investments over time."
Before it's here, it's on the Bloomberg Terminal.
LEARN MORE