Gasoline at U.S. Pumps Drops to Lowest in Year on Supply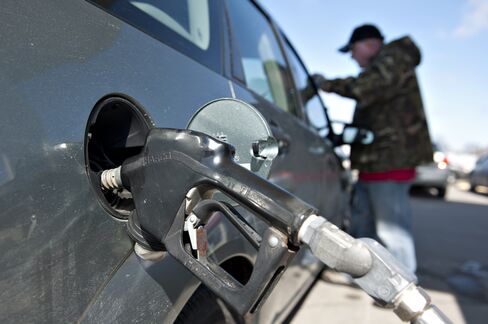 Retail gasoline prices in the U.S. fell to the lowest level in a year as refineries restored production and stockpiles rose to the most in eight months, blunting criticism of President Barack Obama's energy policies.
Regular gasoline dropped 9.5 cents, or 2.8 percent from a week earlier, to $3.254 a gallon yesterday, the lowest since Dec. 19, 2011, according to data posted on the Energy Department's website. Crude, by comparison, was up 1.9 percent during the same one-week period in New York.
"Declining fuel prices are exactly what you need to help revive demand at the moment and help economic activity," Andrey Kryuchenkov, an analyst at VTB Capital in London, said in an e-mailed response to questions. "It also means consumers spending more cash on alternatives, such as luxury goods and clothing."
Prices at the pump jumped as high as $3.878 in September, stoking debate over Obama's policies before this year's U.S. presidential election. Retail costs are down 16 percent since then, with demand for gasoline lagging behind pre-recession levels, refineries coming back online after disruptions, and domestic crude production rising.
The U.S. is riding a technology known as hydraulic fracturing, or fracking, to produce an increasing share of its domestic fuel needs. Fracking, which uses pressurized water to drive gas and oil from shale rock, has helped America meet 83 percent of its energy needs in the first eight months of this year, the highest annual level since 1991, Energy Department data show. An intelligence advisory panel said last week the nation may achieve energy independence in as little as 10 years.
Stockpiles Rise
Gasoline supplies in the U.S. increased 2.4 percent in the week ended Dec. 7 to 217.1 million barrels, the highest since April 6, the Energy Information Administration said Dec. 12. They probably climbed another 1.9 million barrels, or 0.9 percent, to 219 million in the seven days ended Dec. 14, according to the median of seven analyst estimates before the Energy Department unit's next report tomorrow. That would be the highest inventory level since March 30.
U.S. gasoline consumption fell 1.2 percent to 8.54 million barrels a day in the four weeks ended Dec. 7 and is down 8.1 percent from the same period in 2007, before the worst global recession since World War II, according to the department.
Consumption peaked at 9.68 million barrels a day during July 2007, according to the four-week average data from the government. Demand slipped to an 11-year low of 8.04 million during February.
Midwest Solved
Retail gasoline fell in every region of the U.S. this week. The Midwest had the biggest drop, declining by 14 cents to $3.144 a gallon, the Energy Department said.
"Whatever refinery problems they had in the Midwest got solved last week," David Hackett, president of independent fuel consultant Stillwater Associates in Irvine, California, said by telephone yesterday.
CVR Energy Inc.'s Wynnewood refinery in Oklahoma was starting equipment Dec. 7 after a maintenance turnaround, a notice to federal regulators shows. Phillips 66 also finished a turnaround Dec. 10 at the Borger, Texas, refinery, which delivers refined products by pipeline to markets in Texas, New Mexico, Colorado and the Midcontinent.
Falling gasoline prices, along with rising home values and job growth, prompted more Americans to say last month that the world's largest economy will improve. Lower gasoline prices may help cushion the blow if U.S. lawmakers agree on a deal to reduce government spending and raise taxes for the wealthiest Americans to address the nation's so-called fiscal cliff.
'Gas-Hike Trio'
When prices rose before the summer driving season, Republican presidential challenger Mitt Romney referred to the head of the Environmental Protection Agency and the secretaries of Energy and Interior as the "gas-hike trio." The American Energy Alliance, funded in part by oil companies, criticized Obama in a television commercial titled "Nine Dollar Gas."
The U.S. is among nations feeling the least pain at the pump, with a gallon of premium gasoline costing Americans 3 percent of their daily income in October, 55th out of 60 countries, according to data compiled by Bloomberg.
Norwegians paid the most at $10.47 a gallon in October, over 100 times the cost for Venezuelans, for whom it cost 9 cents a gallon, according to a Bloomberg ranking of 60 nations. Members of the Organization of Petroleum Exporting Countries including Saudi Arabia and Kuwait were the next cheapest after Venezuela, at 61 and 88 cents respectively.
At the other end, Turkey, Israel, the Netherlands and Italy all had prices in excess of $9 a gallon. European governments typically add the most tax to fuels, increasing the cost to retail consumers.
Before it's here, it's on the Bloomberg Terminal.
LEARN MORE