China Uses Geology to Challenge Japan on Disputed Islands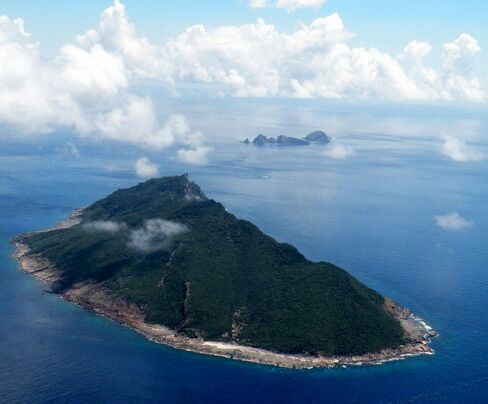 Dec. 19 (Bloomberg) -- After making its first aerial incursion into Japanese-controlled airspace near disputed islands, China compounded tensions with Japan by bolstering its territorial claims at the United Nations.
On Dec. 14, two days before elections in Japan, China submitted to the world body an 11-page report citing the continental shelf's geology to claim ownership of the islands in the East China Sea, which may be surrounded by undersea oil and natural gas fields.
"Physiognomy and geological characteristics show that the continental shelf in the East China Sea is the natural prolongation of China's land territory," China said. On that basis, China extends its claim to resource rights beyond the standard 200-nautical-mile exclusive economic zone.
Since September, when relations between the two sides took a turn for the worse, China has been depositing maps and coordinates with the UN alongside its more visible provocations by sea and air.
"China has repeatedly and canceled and postponed discussions with Japan on this, which is why we have yet to set a border," Foreign Ministry spokeswoman Naoko Saiki said.
Saiki said the government will examine the documents before responding. Japan advocates adopting the median line between the two countries as a border, while China claims exclusive rights to develop undersea resources as far as the Okinawa Trough, well within what Japan sees as its own zone.
'More Hawkish'
The latest actions came after China's Communist Party completed its leadership change and power in Japan was about to return to Shinzo Abe of the Liberal Democratic Party, who advocated a hard line on the dispute during his campaign.
Japan's Foreign Ministry condemned the Dec. 13 flight by a Chinese marine surveillance propeller plane through Japanese-controlled airspace around the uninhabited islands as a "further dangerous act" that "escalates the situation." While Japan dispatched eight F-15 fighter jets, the plane had already left the area and China responded by calling the flight a normal activity in its own airspace.
"China's intention to topple the status quo by use of coercion is clear," Japan's foreign ministry said in a statement e-mailed to reporters today. "Does China want to see the Japan-China relations pass the point of no return?"
China's timing is intentional given that the new Japanese administration "is likely to be more hawkish than the previous government," said Richard Gowan, associate director of New York University's Center on International Cooperation. "This is a signal from the Chinese that it's not going to back down on this issue."
Uninhabited Islands
The dispute over the uninhabited islands, known as Senkaku in Japanese and Diaoyu in Chinese, has hurt trade between Asia's two biggest economies and has stoked concern of an arms buildup. The crisis was triggered by the Japanese government's purchase in September of three of the disputed islands from their private Japanese owner. Since then, Chinese ships have been sailing in and out of the waters around the islands.
Incoming Prime Minister Shinzo Abe "will be forced to put more ships and planes around those islands," Jun Okumura, a Tokyo-based adviser for the Eurasia Group, said yesterday on Bloomberg Television. "That is a recipe for possible unintended incidents that could flare up to a major national security challenge."
China's moves are being monitored by Western powers at the UN for clues as to how the world's second-biggest economy will exert its claims and how far it will push the issue. China supplied late-night drama at the annual UN General Assembly gathering in September when it attacked Japan from a deserted UN stage over ownership of the barren island group.
Receives Charts
The UN secretary general is the designated depositary of the UN Convention on the Law of the Sea and, as such, Ban Ki-moon receives charts and geographical coordinates, his spokesman's office said.
While presenting evidence at the UN may appear a less aggressive move than an incursion by vessels, Japan's position is that this isn't a dispute requiring multilateral arbitration because it's inherently Japanese territory.
"Japan would consider this an unacceptable approach, so the move by the Chinese may be designed to look reasonable but it is more disruptive than it seems," said Gowan, who specializes in crisis diplomacy at the UN.
Chinese vessels have entered Japanese-controlled waters around the islands 18 times since Sept. 11 and have sailed through immediately adjacent "contiguous waters" almost daily, the foreign ministry said. The ships have been warned off by the coast guard. Under Japanese law, incursions by aircraft require a response by the military, raising further potential risks.
To contact the reporters on this story: Flavia Krause-Jackson in United Nations at fjackson@bloomberg.net; Isabel Reynolds in Tokyo at ireynolds1@bloomberg.net
To contact the editor responsible for this story: John Walcott at jwalcott9@bloomberg.net