MBA Rankings: Top Schools for Ethics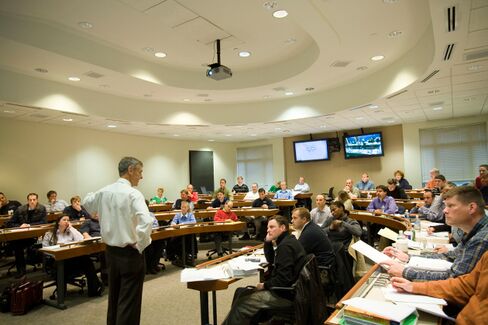 As part of the 2012 Best B-Schools ranking, Bloomberg Businessweek asked graduates from the MBA Class of 2012 to tell us, via an online survey, about the full range of their business school experience, from getting in to getting a job. One section of the survey singled out specific aspects of the business program and asked the students to rate them on a scale from "poor" to "outstanding." Over the next few weeks, we will publish the top 10 B-schools in each of the nine specialty areas, from diversity to leadership to entrepreneurship, culminating with publication of the entire specialty MBA ranking, including each of the 82 ranked schools.
Today we look at ethics, a subject area that has seen a boom on B-school campuses over the past five years. The ranking is based on student responses to the question asking them to rank their program's ethics offerings. Points are awarded for each response—one point for "poor" through six points for "outstanding"—and then averaged for each school. The average ethics score for all 82 U.S. and international schools in the ranking was 4.64. At the top of the list is Notre Dame's Mendoza College of Business.
At Mendoza, ethics and values-based business teaching are hard to avoid. The student-created "MBA Values Statement" hangs in every classroom; students spend a full day on community service as part of orientation; and each of the 20 core courses and 143 electives that Mendoza offers incorporates social, ethical, or environmental issues through readings, assignments, and class discussion.
Philip Negri, a member of the Mendoza Class of 2012, says the school's focus on values in business is the most unique element of the MBA program. "I'm confident that our ethics curriculum is taught and practiced to a degree unseen elsewhere because it's integrated seamlessly within every course and every lesson," he says.
Following Mendoza is the University of Virginia's Darden School of Business. At Darden, home of the Olsson Center for Applied Ethics, "Business Ethics" is a required course for every first-year MBA. While the requirement isn't unusual, the content is. "This isn't a course in enumerating 'good' and 'bad' business practices," says management professor Jared Harris, who teaches the course. "Rather, its focus is on helping students build their ethical decision-making frameworks by confronting difficult, nuanced cases where values play a role." Additionally, Darden offers five ethics-centric electives, with titles like "Leadership, Values and Ethics" and "Foundations of Ethics and Economics Seminar."
Indiana's Kelley School of Business, Maryland's Smith School of Business, and Yale School of Management round out the top five.
Top MBA Programs by Specialty: Ethics
Notre Dame (Mendoza) 5.87
Virginia (Darden) 5.74
Indiana (Kelley) 5.63
Maryland (Smith) 5.58
Yale 5.58
IESE Business School 5.56
Texas A&M (Mays) 5.55
Brigham Young (Marriott) 5.42
Dartmouth (Tuck) 5.40
Carnegie Mellon (Tepper) 5.29
Before it's here, it's on the Bloomberg Terminal.
LEARN MORE