Boehner's Big Concessions May Not Avert the Fiscal Cliff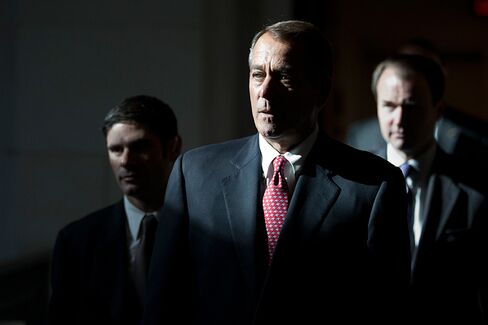 The news over the weekend that House Speaker John Boehner offered to raise tax rates on millionaires—not just revenue, but actual income tax rates—is a big deal because it means that Boehner is acknowledging to his caucus a reality many of them refuse to accept: that President Obama and the Democrats have enough leverage to raise tax rates and that Republicans are better off cutting a deal than falling on their swords to protect the rich. But an even bigger deal is Boehner's reported willingness to extend the debt ceiling for a year and in so doing concede the Republicans' greatest point of leverage (albeit in exchange for meaningful cuts to entitlement programs such as Medicare and Medicaid, and possibly Social Security).
It could be that Boehner recognizes how difficult it would actually be to wield that threat. Either way, the debt limit concession signals that he isn't just trying to position his party for the PR fallout that would result from going over the cliff—he's genuinely trying to reach a deal and is willing to make significant concessions to do so, though he'll need to make more of them to get the White House on board. On Friday, many Washington insider-types didn't think that a resolution seemed likely before the New Year; now there's growing confidence that a deal may be reached before Christmas.
That confidence, though, may be premature. A deal between Obama and Boehner, while significant, is not actually the biggest hurdle to resolving the fiscal-cliff showdown—the biggest hurdle is selling whatever deal Boehner strikes to the right wing of his own caucus. There's no sign yet that conservative House members are any more willing to vote for tax-rate increases than they were last week. On Friday, Representative Andy Harris (R-Md.) told the Washington Post that he would vote against any increase that wasn't paired with 10-to-one spending cuts—an utterly unrealistic scenario. That was before news broke of Boehner's new offer.
Afterward, Chris Chocola, president of the right-wing Club for Growth, released a statement pillorying the Speaker: "First Speaker Boehner offered to raise tax rates after promising not to, and now he's offering to raise the debt ceiling. Raising tax rates is anti-growth and raising the debt ceiling is pro-government growth—and this is the Republican position?"
If Chocola's stance is embraced by the majority of the Republican House caucus, we may wind up with a replay of the TARP vote four years ago, when a deal between Republican and Democratic leaders was struck—and then voted down by the Republican rank and file.
Before it's here, it's on the Bloomberg Terminal.
LEARN MORE