U.S. Stocks Decline on Apple Amid Government Budget Talks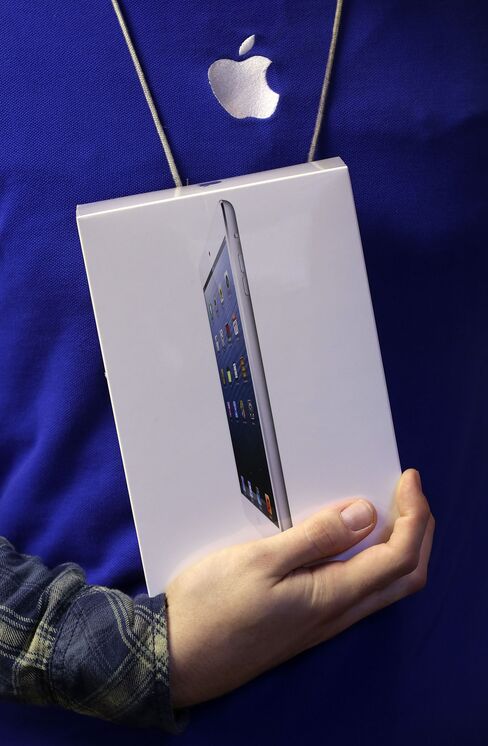 U.S. stocks fell, extending yesterday's drop, as a slump in Apple Inc. and the federal budget stalemate offset an increase in industrial production and data showing China's manufacturing may expand at a faster pace.
Apple, the most valuable company, sank 3.8 percent as UBS AG cut its share-price estimate. Best Buy Co. slumped 15 percent after extending founder Richard Schulze's deadline to make an offer to take the company private. Smith & Wesson Holding Corp. slumped 4.3 percent as the killing of children at a Connecticut elementary school spurred speculation of tighter gun-control laws. U.S. Steel Corp. and Alcoa Inc. added more than 1.7 percent to pace gains in commodity companies.
The Standard & Poor's 500 Index fell 0.4 percent to 1,413.58 at 4 p.m. New York time. The benchmark measure for American equities lost 0.3 percent this week. The Dow Jones Industrial Average slid 35.71 points, or 0.3 percent, to 13,135.01 today. About 5.8 billion shares changed hands on U.S. exchanges, or 6.7 percent below the three-month average.
"The chances of some type of grand bargain in Washington are significantly diminishing as time passes," said Eric Teal, chief investment officer at First Citizens Bancshares Inc., which manages $4.5 billion in Raleigh, North Carolina. "On a company level, investors are looking at the competitive landscape for Apple and they see threats."
Nine out 10 industries in the S&P 500 retreated as technology, the biggest group, led the losses. President Barack Obama and Republican House Speaker John Boehner remained deadlocked yesterday during their third White House meeting on next year's budget.
Economic Data
In China, the December preliminary reading was 50.9 for a purchasing managers' index released by HSBC Holdings Plc and Markit Economics, beating estimates. Industrial production in the U.S. rose in November by the most in two years.
"We've had further confirmation of a soft landing in China," said Michael Strauss, who helps oversee about $26 billion as chief investment strategist at Commonfund in Wilton, Connecticut. He spoke in a phone interview. "That's good for markets. Yet people are still worrying about the fiscal cliff. It's going to be a 24th hour or overtime event."
The S&P 500 has dropped 0.2 percent this month, paring its 2012 rally to 12 percent. Its average increase for December is 1.5 percent, the most of any month except July, according to data dating back to 1928 compiled by Bloomberg.
Apple sank 3.8 percent to $509.79. UBS cut its price estimate to $700 from $780, citing concern that growth may slow for the iPhone and iPad.
Apple Options
The cost of Apple options relative to other technology companies has risen to a four-year high, reflecting concern the iPhone and iPad maker's dominance may be threatened by rivals such as Google Inc. and Nokia Oyj.
Implied volatility, which traders use to gauge option prices, for three-month contracts closest to Apple's shares was 2.18 times more than the Technology Select Sector SPDR Fund last week, the highest level since September 2008, according to data compiled by Bloomberg. Apple shares have fallen 25 percent to $529.69 since a record high in September.
The options trading "is a reflection of market participants being a little bit more skeptical of Apple's story going forward," John Goltermann, who helps oversee $850 million at Obermeyer Asset Management Inc. in Aspen, Colorado, said in a phone interview on Dec. 12. His firm doesn't own Apple shares. "The market is questioning what's next on the innovation side and how they're going to protect their margin."
Best Buy
Best Buy slumped 15 percent to $12.05. Schulze can now make a proposal to buy the company from Feb. 1 through Feb. 28, Best Buy said today in a statement. The company agreed that it was in the best interest of shareholders to let Schulze and his partners include results from the holiday season in their due diligence review, the retailer said.
Smith & Wesson slumped 4.3 percent to $9.13 while Sturm Ruger & Co. dropped 4.5 percent to $45.57. President Obama said the Connecticut shooting, the most deadly in a string of mass killings this year, shows the nation must take "meaningful action" to stem such violence. Twenty-six people, including 20 children, died when a gunman walked into a Newtown, Connecticut, elementary school and opened fire this morning.
Schlumberger Ltd. dropped 5 percent to $68.91. The world's largest oilfield-services provider said it expects earnings per share to fall because of delays and slowing activity in its two largest regional units.
Raw-material producers were the only group among 10 in the S&P 500 to gain as the S&P GSCI gauge of 24 commodities added 0.9 percent on bets that demand will increase in China. U.S. Steel rose 6.8 percent to $23.85. Alcoa increased 1.8 percent to $8.74.
Adobe Rallies
Adobe Systems Inc. added 5.7 percent to $37.56 after the software company reported fiscal fourth-quarter sales and profit that topped analysts' estimates as customers embraced its flagship Creative Suite.
FuelCell Energy Inc. jumped 7.5 percent to 94 cents. The U.S. manufacturer of fuel-cell power plants surged on an agreement to build a 14.9-megawatt power plant in Connecticut for Dominion Resources Inc.
Boston Scientific Corp. gained 0.7 percent to $5.67. The seller of drug-coated stents was raised to overweight from underweight at Barclays Plc by equity analyst Matthew Taylor. The share-price estimate is $7.
Before it's here, it's on the Bloomberg Terminal.
LEARN MORE