India Stocks Rise for First Time in Six Days on Inflation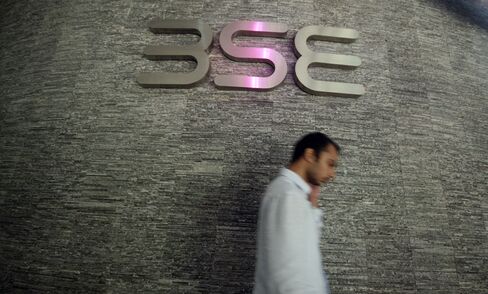 India's stocks advanced for the first time in six days, led by banks and mining companies, after inflation unexpectedly eased in November.
The BSE India Sensitive Index, or Sensex, rose 0.5 percent to 19,317.25 at the close in Mumbai. The gauge lost 1 percent in the five days to yesterday. The S&P CNX Nifty Index gained 0.5 percent to 5,879.60. State Bank of India led an index of banks up to the highest level in two years. Tata Motors Ltd. surged to a seven-month high after sales at its Jaguar Land Rover unit beat estimates. Copper producer Sterlite Industries (India) Ltd. surged 3.6 percent.
The Sensex swung between gains and losses at least 26 times before the Commerce Ministry reported the wholesale-price index climbed 7.2 percent in November. That's lower than the previous month's 7.45 percent and the median 7.6 percent estimate in a Bloomberg News economist survey. The data comes before an interest-rate decision by the Reserve Bank of India on Dec. 18.
"Lower inflation increases the probability of a token rate cut by the RBI next week, which will help stocks rally," Sunil Pachisia, vice president at Pratibhuti Viniyog Ltd., said by phone from Mumbai. "Investors are still cautious as there may be negative cues from the government or global markets, which may result in a sudden sell off."
Sensex trading volumes were 15 percent higher than the 30-day average at the close, according to data compiled by Bloomberg. The 246-member BSE Mid-Cap Index rose 0.6 percent after sliding 1.2 percent yesterday.
Lower Volatility
The Sensex has climbed 25 percent this year, poised for its biggest annual advance since 2009, after Prime Minister Manmohan Singh opened the nation to more overseas investment in the past three months to revive growth and avert a downgrade of India's credit rating. The stock gauge's 100-day historical volatility dropped to 12 today, the lowest level in at least 10 years. The India VIX, a measure of options prices, fell 3.3 percent to 14.23, the lowest level since Nov. 27.
"A lower VIX suggests an increased risk-taking environment, as confidence among market players is improving," Jignesh Shah, an executive director at Sarasin-Alpen (India) Private Ltd., wrote in an e-mail today. "This could be because of the global investment climate improving as well as due to policy steps being taken by the government to improve the fiscal situation of the country."
The Sensex has declined 0.6 percent this week, its first weekly loss in a month, after its valuation reached the highest level since February on Dec. 6 and data on Dec. 12 showed consumer-price inflation accelerated last month. The Sensex trades at 16.3 times reported profit compared with a multiple of 12 for the MSCI Emerging Markets Index.
Bank Profits
The BSE India Bankex Index, a gauge of 14 lenders, gained 1.3 percent to the highest level since Nov. 15, 2010. State Bank added 2.6 percent to 2,320.25 rupees, the steepest gain since Oct. 18. ICICI Bank Ltd., the nation's third-biggest lender by value, added 1.3 percent to 1,136.05 rupees, the highest close since Jan. 3, 2011.
"If benchmark interest rates come down, it will help raise banks' profit margins," A.K. Prabhakar, a senior vice president at Anand Rathi Financial Services Ltd. in Mumbai, wrote in an e-mail.
Tata Motors gained 1.5 percent to 292.1 rupees, the highest close since May 11. Jaguar Land Rover sold 34,649 units in November, exceeding the 30,000 median estimate of 27 analysts surveyed by Bloomberg News.
Parliamentary Support
Reliance Communications Ltd. climbed 0.5 percent to 75.05 rupees after India yesterday approved lower reserve prices for telecommunications spectrum. Chambal Fertilizers & Chemicals Ltd. rose 0.8 percent to 68.75 rupees after the federal cabinet yesterday approved a urea investment policy to boost output in the industry.
The cabinet also approved changes to a law governing purchases of land for industry and highways, while Environment Minister Jayanthi Natarajan said the government has set up a panel to speed up approvals of infrastructure projects. The government won parliamentary support last week on foreign investment in supermarkets.
The stock regulator issued guidelines yesterday aimed at preventing flawed orders and uncontrolled trades after a brokerage mistake wiped 16 percent off the Nifty in October.
Any order for stocks, exchange-traded funds, index futures and equity futures exceeding 100 million rupees ($1.8 million) in value shouldn't be accepted by stock exchanges for execution in the normal market, the Securities and Exchange Board of India said in a statement yesterday. The changes come after Emkay Global Financial Services Ltd. entered 6.5 billion rupees of orders on behalf of an institutional client on Oct. 5, spurring a 16 percent plunge in the Nifty. The gauge rebounded to end the day 0.7 percent lower.
Overseas funds were net buyers of local stocks for a 20th straight day on Dec. 12, taking net purchases in 2012 to $22 billion, the most among 10 Asian markets tracked by Bloomberg, excluding China, data compiled by Bloomberg show.
Before it's here, it's on the Bloomberg Terminal.
LEARN MORE