ICBC May Buy 60% Stake of Standard Bank Trading Unit, WSJ Says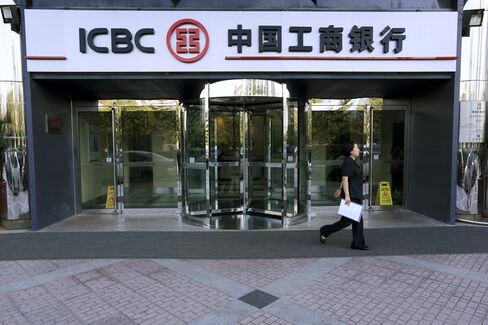 Industrial & Commercial Bank of China Ltd. may buy a controlling stake in Standard Bank Group Ltd.'s London-based commodities and foreign exchange business, the Wall Street Journal reported.
The agreement to buy 60 percent of the Johannesburg-based lender's operation would include an option to boost the stake to 80 percent in "a couple of years," the newspaper said yesterday, citing unidentified people familiar with the matter. A final deal is yet to be signed, the Journal said.
ICBC, the South African bank's largest shareholder, and other Chinese lenders are expanding abroad as the growing number of Chinese companies in overseas markets boosts demand for offshore services amid tougher competition at home. The commodities and foreign exchange stake would further cement ties between the banks after ICBC last month bought 80 percent of Standard Bank's Argentine unit.
Wang Zhenning, an ICBC press officer based in Beijing, declined to comment on the Wall Street Journal report.
State-controlled ICBC's overseas expansion began in December 2006 when it acquired 90 percent of PT Bank Halim Indonesia, followed by an 79.9 percent stake in Macau's Seng Heng Bank in 2007.
In March 2008, the world's biggest lender by market value bought 20 percent of Standard Bank, Africa's largest, for $5.4 billion, in the biggest overseas acquisition by a Chinese bank.
ICBC shares fell 1.1 percent to HK$5.41 at 9:43 a.m. in Hong Kong, trimming their gain for the year to 17 percent. Standard Bank gained 1.4 percent in Johannesburg yesterday.
Chinese banks including ICBC are also seeking to profit from the country's demand for precious metals and other commodities. A stake in the Standard Bank unit could build on the full membership ICBC won earlier this month in the London Bullion Market Association.
China's bullion demand may be more than 750 tons this year, as the country overtook India in the third quarter as the world's largest gold jewelry market, Albert Cheng, managing director for the World Gold Council's Far East region, said on Nov. 17.
— With assistance by Aipeng Soo
Before it's here, it's on the Bloomberg Terminal.
LEARN MORE