Russia Says Assad Losing Control, Rebel Victory Possible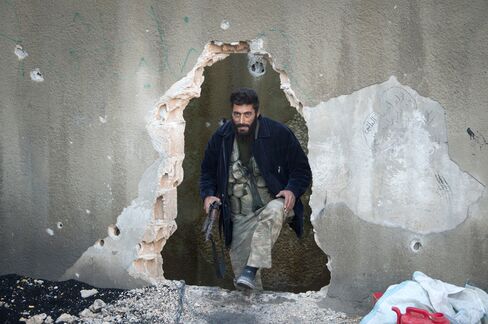 Syrian President Bashar al-Assad is losing control and may be overthrown by an increasingly powerful opposition, Russia's deputy foreign minister said in the country's first official acknowledgment that the Syrian leader's days may be numbered.
"We have to look at the situation with open eyes," the state-run RIA Novosti news service reported Mikhail Bogdanov said. "The current trend is that the regime and government in Syria are increasingly losing control and territory. Unfortunately, you can't rule out a victory by the opposition."
NATO Secretary-General Anders Fogh Rasmussen also said yesterday that Assad's government is "approaching collapse." "I think now it's only a question of time," he told a news conference in Brussels.
Syrian security forces killed at least 107 people across the country yesterday, 63 of them in and around the capital Damascus, the opposition Local Coordination Committees said in an e-mail.
Russia has supported Assad throughout the 21-month Syrian conflict, maintaining weapons supplies and giving political support by blocking the West's demands for action through the United Nations Security Council. While Bogdanov didn't indicate Russia would change its position at the UN, he went further than previously in acknowledging that the civil conflict, now estimated by opposition groups to have killed more than 41,000 people, will probably end with Assad's downfall.
Possible Outcomes
"Russia is tired of Bashar al-Assad, his failed promises to defeat 'terrorism'," Alexei Malashenko, Middle East analyst at the Moscow Carnegie Center, said by phone yesterday. "He hasn't succeeded. Russia, with a massive delay, under pressure from events on the ground, is giving him up. Now the likeliest outcome is a military one that could lead to Assad fleeing or being killed, and a sectarian bloodbath."
U.S. officials said this week that Syrian forces have escalated to using Scud missiles against rebel areas, and last week said that intelligence agencies have detected signs of possible Syrian preparations to use chemical weapons. Syria's foreign ministry yesterday denied both allegations.
In Washington, Republican Representative Mike Rogers of Michigan, the chairman of the House intelligence committee, said Assad's chemical weapons "are available for use on very short notice."
Their use might result in "hundreds of thousands of dead, millions who would be impacted by it and refugee problems" throughout the Mideast "that would be staggering and destabilizing to that whole region," Rogers said on CNN yesterday. "This is as serious as it gets."
'Without Interference'
Russia's chief of general staff, Colonel-General Valery Gerasimov, indicated yesterday that his country maintained its opposition to outside intervention in Syria.
"Our firm position is that only the two sides of the Syrian conflict are capable of resolving it, without interference from some third party, particularly if that were to involve the use of force," Gerasimov said, following talks with General Knud Bartels, the North Atlantic Treaty Organization's military committee chairman, RIA Novosti reported.
Syria is Russia's last Arab ally. Hafez al-Assad, Bashar's father, forged an alliance with the Soviet Union after taking over the presidency in a 1970 coup, receiving weapons and financial support during the Cold War.
Naval Base
The relationship has continued. Since 2006, Syria has signed about $5.5 billion in arms contracts with Russia, according to estimates by the Centre for Analysis of Strategies and Technologies in Moscow, which advises the Defense Ministry. Russia has its only military base outside the former Soviet Union in the Syrian port of Tartus, which also gives it access to the Mediterranean.
The National Coalition of Syrian Revolutionary and Opposition Forces was recognized Dec. 12 as the legitimate representative of the Syrian people by more than 100 nations at a meeting in Marrakesh, Morocco, a move that cements the group's status as a government-in-waiting. The rebels agreed a unified military command and called for the withdrawal of Iranian forces.
Russia did not attend that meeting and hasn't joined other nations in recognizing the rebel organization.
Russia is "out of step with the international consensus with regard to who really speaks for the Syrian people," U.S. State Department spokeswoman Victoria Nuland said at a news briefing in Washington yesterday.
Tens of thousands of sick and wounded Syrians are trapped in the east Syrian city of Deir Ezzor and must be evacuated before winter sets in and medical supplies run out, the international charity Medicins Sans Frontiers said yesterday.
Opposition groups declared Deir Ezzor a disaster area in October. The region holds oil and gas resources and is described by the opposition as the largest area free of government control.