Spectra to Buy Crude-Oil Pipeline for $1.25 Billion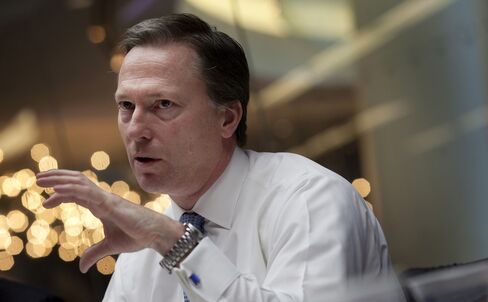 Spectra Energy Corp., the fourth-largest U.S. pipeline company, agreed to buy its first oil system from Kinder Morgan Energy Partners LP and two Canadian pension funds for $1.25 billion in cash.
The Express-Platte pipeline brings oil from Alberta and North Dakota's Bakken Shale to refineries in Montana, Wyoming, and Illinois, Spectra said in a statement today. The agreement, Houston-based Spectra's largest acquisition, includes the assumption of $240 million of debt.
The 1,717-mile (2,760-kilometer) pipeline, owned by Kinder Morgan, the Ontario Teachers' Pension Plan and Borealis Infrastructure, can transport 280,000 barrels of oil a day. The system is one of three major pipelines that bring oil to refiners in the U.S. Midwest from growing onshore North American production.
"This acquisition provides us with an attractive entry into the expanding crude oil transportation and storage space and we gain immediate scale and scope without the risk associated with new construction," Spectra Chief Executive Officer Greg Ebel said on a conference call with analysts today. "You can expect to see us pursue continuing investments in oil and refined products pipelines, storage tanks and terminals."
Spectra joins other pipeline companies that are shifting focus from gas to oil, including Energy Transfer Partners LP and Enterprise Products Partners LP, said Bradley Olsen, an analyst at Tudor Pickering Holt & Co. in Houston. Spectra will likely try to connect the Express-Platte pipeline to new basins or to pipelines that serve other refineries, he said.
Complementary Business
"It doesn't make sense to own just one" oil pipeline, said Olsen, who doesn't rate Spectra.
Oil transportation is a complementary business for Spectra, said Nathan Judge, an analyst for Atlantic Equities LLP in London who rates Spectra at neutral, equivalent to a hold, and doesn't own shares.
Spectra currently operates 19,000 miles of pipelines and transports about 15 percent of the gas consumed in North America.
Ebel compared the growth in North American oil production to the surge in unconventional gas output. The company may sell the oil assets to its master-limited partnership, Spectra Energy Partners LP, Ebel said.
U.S. refineries are gearing up to process heavier Canadian crude and take more oil from domestic fields as the world's largest oil consumer works to reduce its dependence on supplies from the Middle East. Domestic production is rising fast enough for the U.S. to oust Saudi Arabia as the world's top producer by 2020, according to the International Energy Agency.
Earnings Boost
Spectra said the deal would add $130 million to 2013 earnings before interest, taxes, depreciation and amortization and 3 cents to 5 cents to earnings per share annually. Spectra is expected to earn $1.61 a share in 2013, the average of six analysts' estimates compiled by Bloomberg.
Kinder Morgan's sale of a one-third stake in the system will yield about $380 million before taxes, the Houston-based partnership said in a statement. Kinder Morgan bought the stake for $116 million in stock from its parent four years ago.
"Kinder Morgan is one of the best operators in the business and they bought a controlling interest in that pipe in 2008 for about a third of what Spectra is paying," Judge said. "A question, though, is what Spectra is bringing to the table that its current owners couldn't."
Borealis, an investment arm of the Ontario Municipal Employees Retirement System, will get gross proceeds of about $430 million, it said in a separate statement.
Share Sale
Completion of the transaction is expected in the first half of next year, Spectra said.
Separately, Spectra announced it will sell 12.8 million shares that may help fund the purchase. Bank of America Corp., Barclays Plc and UBS AG will manage the share sale and will be able to buy another 1.9 million shares at the offer price.
The sale of 12.8 million shares would raise about $350 million at yesterday's closing price. Spectra fell 0.3 percent to $27.27 at the close in New York. The shares have declined 11 percent this year.
Enterprise Products, Kinder Morgan and Williams Cos. are the three biggest U.S. pipeline operators by market value.
Before it's here, it's on the Bloomberg Terminal.
LEARN MORE