Fugitive Spiders (and Other Organic Food Dangers)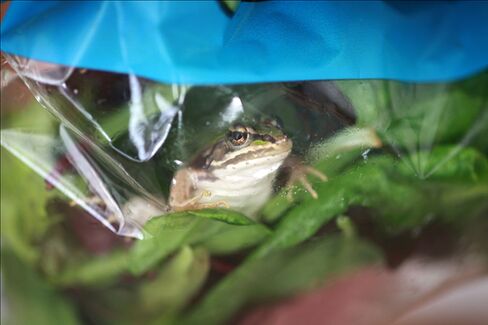 That's the problem with organic food: You never know when it comes with a dose of neurotoxic venom. This week a Connecticut woman was shocked to find a black widow spider in a bag of Sunview Organic Table Grapes she bought at her neighborhood Whole Foods, reported Greenwich Time. (After the harrowing discovery, her boyfriend took the effective response of releasing it in her yard.)
If poisonous arachnids lurk in our overpriced, pesticide-free grapes, what other dangers can be found in organic food stores? Beware:
Frogs: (Ick.) A South Pasadena woman found a living frog in a box of organic salad in Costco in 2011, reported SGV Tribune. "Those kind of things can occasionally happen," said a spokesperson for Babe Farms, which produced the greens. Then, in April 2012, the BBC reported that Riverford Organic staff in Devon, U.K., found a live European tree frog in a batch of fruits and vegetables.
Metal bits: Rudi's Organic Bakery recalled multigrain oat bread, cracked wheat bread, and cinnamon raisin bread for possibly containing "metallic foreign objects."
Allergens: As many as 15 million Americans have food allergies. This year, due to a labeling error, Tropical Valley Foods did not declare wheat, soy, or tree nuts on some dark chocolate, organic dark chocolate, and trail mix items. But breathe easy: The company recalled dozens of products.
Bacteria: No one ever said organic means bacteria-free. A recent salmonella outbreak traced back to peanut butter, led the country's biggest organic peanut butter producer, Sunland, to shut down operations at its plant. The grocery store chain Wegmans also recalled packages of Organic Spinach and Spring Mix in November that might have contained E. coli.
Arsenic: What could be worse than exposing yourself to toxins? How about: exposing your baby. Dartmouth researchers this year found that baby formula containing organic brown rice syrup had significantly higher amounts of arsenic, a carcinogen.
Before it's here, it's on the Bloomberg Terminal.
LEARN MORE