Never Mind Bruce Springsteen; Here Are the Rolling Stones
The Stones set a high bar for ticket prices at two New York area venues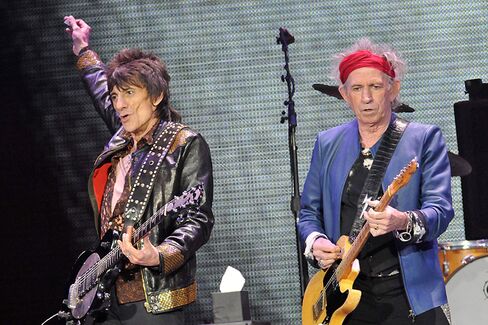 Mick Jagger, Keith Richards, and the rest of the Rolling Stones may be older, on average, than the nine justices of the U.S. Supreme Court, but fans apparently just want to see their creased, leathery faces. The band's three 50th anniversary shows in the New York area this month, at Barclays Center in Brooklyn on Dec. 8 and at the Prudential Center in Newark on Dec. 13 and 15, are setting new highs for prices on the secondary market at both venues. According to ticket search engine SeatGeek, seats at the Barclays show are fetching an average of $747. The average for the first Prudential show is $699 and $927 for the second. This town is, indeed, full of money grabbers.
The previous high in the three-month history of Barclays was a mere $397 for Barbra Streisand in October. At Prudential, which has been open for five years, the Stones are trumping even local hero Bruce Springsteen, who set the bar for a musical act at $268 in May of this year. Since 2009, only two shows at any venue in New York have topped the Stones: Sting's 60th birthday at the Beacon Theatre in October 2011 ($1,054) and Wynton Marsalis and Eric Clapton for two nights at Lincoln Center in April 2011 ($1,049 and $983).
SeatGeek spokesperson Will Flaherty says that "very aggressive primary market pricing" by the Stones is driving the record high prices. Richard Branson's new venture, Virgin Live, is promoting the shows and set initial prices at a range of $100 to $750 for both shows, not counting suites and VIP passes. "It's expensive," Jagger told Billboard in November. "But most of the tickets go for a higher price than we've sold them for, so you can see the market is there." Fans are paying as much at $6,800 for front-row center seats at Barclays and $4,800 at the Prudential Center. (They know it's only rock and roll, but they like it.)
Still, Flaherty says a few of the worst seats at the back of the lower bowls and the edges of the arena floors are selling for less than face value. Those don't afford as good a view of the "all-new, custom-built set design, with a stage based on the band's ubiquitous and celebrated tongue and lips logo." But as a wise old Englishman once said, you can't always get what you want.
Before it's here, it's on the Bloomberg Terminal.
LEARN MORE