Mosque Proposal Near London's Olympic Park Rejected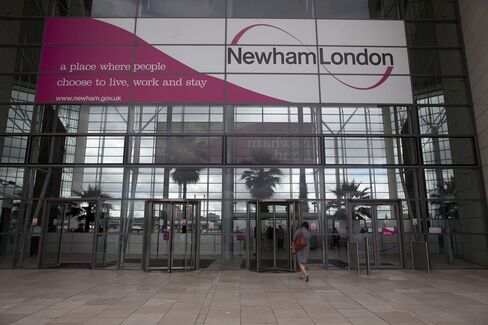 A plan to turn a former chemical-plant site about a mile from London's Olympic Park into a mosque more than three times the size of St. Paul's Cathedral was rejected by the local government.
The Newham Borough Council denied permission for the 6.2-hectare (15-acre) development called the Riverine Centre in London's West Ham neighborhood at a meeting yesterday. The borough's planners had recommended that the proposal by Anjuman-E-Islahul-Muslimeen of (London) U.K. Trust be rejected.
"The creation of new homes and jobs are a priority for Newham Council," Councilor Conor McAuley said in an e-mailed statement. "Our planning policies promote the development of the Abbey Mills site for a mix of residential, employment and community uses, to help create a new local center near West Ham station and regenerate the area."
The mosque would have included space for more than 9,000 visitors, a library and a 2,000-person capacity dining hall. The council earmarked the land for housing and businesses. Before the meeting, more than 25,000 people contacted the council to say they supported the project and about 3,000 objected.
More than a thousand supporters of the development blocked the pavement outside the Town Hall where the application was being considered last night. They waved placards with slogans urging local Mayor Robin Wales to approve the proposal. One read: "15 years of waiting. Not a day more. Vote yes to the Riverine Centre."
Newham Residents
About a quarter of Newham's residents are Muslim, compared with about 8.5 percent in all of London, according to a document submitted by the center's trustees. There are 1,500 Christians for every corresponding place of worship in the area and 2,500 Muslims for every mosque.
The council rejected the proposal on the ground that the planned mosque would be so big that it would affect historic buildings in the area, increase road traffic in the neighborhood and expose people to contamination from the site's previous use.
Chemicals had been made on the former Rio Tinto Zinc site for about 100 years through the 1980s, contaminating the land, according to documents provided to councilors before the vote. The site was bought by the trust in 1996. The contamination can't be fully mitigated for the purpose of the proposed development, according to the documents.