Investors' Risky Bet on the Ghost of Freddie Past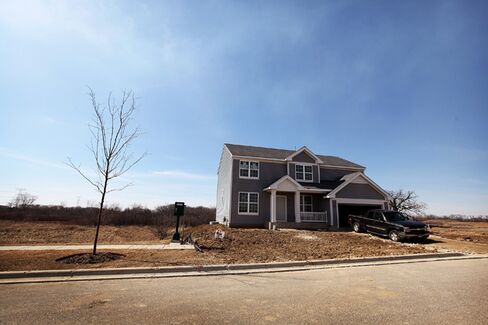 The post-bailout world abounds with financial incongruities. Witness: Federal Home Loan Mortgage Corporation, or "Freddie Mac," the government-sponsored agency that by its own admission "makes home possible for one in four home buyers and is one of the largest sources of financing for multifamily housing." Since the beginning of 2009, it has provided nearly $1.6 trillion of funding to the U.S. mortgage market. Albeit under one giant black cloud: Alongside its cousin Fannie Mae, Freddie Mae has been under government "conservatorship (pdf)" since September 2008, after a decade of gorging on risky mortgages that effectively rendered the two insolvent. Washington euphemism aside, taxpayers bailed them out.
Yet Freddie Mac shares—which were thought to be irrelevant since the government formally took over—still trade on the over-the-counter pink sheets, province of penny-stock shops. FMCC is up 40 percent this year. Fannie Mae's pink-hued stock is up 35 percent.
Exactly what outcome are investors romancing?
For simplicity's sake, focus on Freddie Mac. At the end of 2006, before housing went to Hades, Freddie sported a market capitalization of $45 billion. Today, it's at $955 million. In mid 2010, its old listing (FRE) was moved from the New York Stock Exchange to the OTC bulletin-board, where it was ostensibly left to fall to zero. It proceeded to diminish from $1.24 to as low as 19¢ a year ago. Today, it's back up to 30¢.
"I'm surprised it's up so much this year," says analyst Edwin Groshans of Height Analytics. "For the foreseeable future, maybe even up to a decade, Freddie is in limbo, as its profits and dividends have to pass through to the Treasury Department." (As opposed to making their way to common shareholders). Indeed, through Sept. 30, Freddie Mac has forked over just under $22 billion in cash dividends to Treasury, on the company's senior preferred stock.
With U.S. mortgage finance never so dependent on the government-sponsored agencies, Freddie and Fannie are still touch-and-go stories. Recidivism rates after 12 months for modified subprime mortgages have declined to about 40 percent from almost 80 percent in four years, according to Nomura Securities. As the backstops of last resort, Fannie Mae and Freddie Mac have largely had no choice but to keep stockpiling these still-shaky modified mortgages, which sent their nonperforming loans to a record last quarter; as of Sept. 30, they owned $195 billion of restructured loans.
Yet things are looking up. In its latest quarterly report (pdf), Freddie Mac revealed that it was decently profitable—even after paying its dividend to Uncle Sam—and did not need to draw on Treasury funds. This year, Fannie Mae and Freddie Mac have almost doubled what they charge to guarantee bonds. Of course, it helps greatly that the Federal Reserve, sailing the good ship QE3, is now buying at least $40 billion a month of mortgage agency debt.
According to Bloomberg data, issuance of U.S. government-backed mortgage securities soared 45 percent last month, to the highest since at least 2009. Lenders raced to move up this issuance (which Freddie and Fannie guarantee) before the pair hiked their fees on Dec. 1.
This comes as U.S. home prices rose 4.4 percent for the 12 months ending September.
Maybe the penny stock crowd is hoping residential real estate goes back up so wildly that enough upside will accrue to Freddie Mac's otherwise-forgotten share price.
But that's quite a treacherous wager. As blogger and former broker Jon Ogg noted when Freddie was evicted from the Big Board in 2010: "Once these go to the [pink sheets] … the implied upside for any price above zero comes with the notion that the economy could return or even that inflation comes back in a hurry. Ten percent inflation per year would be one short-term cure for housing. It would be like treating a case of the flu with syphilis."
Before it's here, it's on the Bloomberg Terminal.
LEARN MORE