Icahn Ends Oshkosh Bid After Shareholder Support Falls Short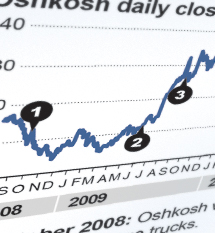 Billionaire activist investor Carl Icahn dropped his bid to buy truckmaker Oshkosh Corp. after failing to receive enough shareholder support. The stock fell 3.8 percent.
Icahn, 76, the company's largest shareholder with a 9.5 percent stake, had said he would end his bid if fewer than a quarter of the company's outstanding shares were tendered by the deadline. About 22 percent of the shares were offered, according to a statement from Icahn Enterprises LP today.
Because he didn't get the number sought, "we are returning all tendered shares and we will not extend the offer," Icahn said in the statement.
Icahn's offer to buy all outstanding shares of the Oshkosh, Wisconsin-based company at $32.50 a share, or about $3 billion, expired at midnight yesterday. Oshkosh is the U.S. military's largest supplier of medium- and heavy-duty trucks.
Oshkosh closed at $28.96 in New York, after earlier declining as much as 5.7 percent. The shares are up 35 percent this year.
'Unnecessary Expense'
"Given today's tender results, Oshkosh looks forward to moving ahead without the unnecessary expense and distraction of a proxy contest," the company said in a statement provided by spokesman John Daggett.
Oshkosh remains focused on generating value for shareholders, it said.
"I'm not surprised that Icahn had difficulty getting the number of shares that he wanted to get to proceed with the proxy fight," Walter Liptak, an analyst at Barrington Research Associates Inc. in Chicago, said in a telephone interview. Liptak has an outperform rating on the company.
"Oshkosh management presented a really compelling earnings growth plan to shareholders," he said. "The trading today sets up a buying opportunity in the stock."
The company has outlined a strategy to double its earnings per share by 2015. Oshkosh earned $2.27 a share in fiscal 2012, which ended Sept. 30.
Shareholders tendered 20.3 million shares in response to Icahn's offer, according to his statement today. Oshkosh has 91.6 million shares outstanding. Icahn previously said he would walk away from the deal if he didn't receive at least 25 percent.
"We will respect the shareholders' wishes, drop our tender offer and proxy fight and move on to other endeavors," he said in a Nov. 29 statement.
Spinoff Plan
Icahn disclosed his Oshkosh stake in a June 20, 2011, filing with the Securities and Exchange Commission. From April 29 through June 30 of that year, his affiliated companies bought 8.67 million shares, paying on average $29.36 a share, according to data compiled by Bloomberg.
Icahn, known for lobbying for change at the companies in which he invests, has criticized Oshkosh's executives for poor performance. He has pushed for spinning off its JLG unit, which makes construction lift equipment, saying it's more valuable as a separate entity.
In January, he led an unsuccessful proxy fight against Oshkosh's board of directors. In October, he announced plans to buy the company and replace its 13-member board with his own nominees, including himself.
Icahn's almost 15 percent stake in Navistar International Corp., based in Lisle, Illinois, has fueled speculation of a merger between the two truckmakers. Icahn, also in October, reached an agreement with Navistar to gain seats on the company's board.
He has rejected the idea of combining the companies, saying "there's no chance of that," in an Oct. 11 interview on Bloomberg Television. "The real interest in Oshkosh has to do with the JLG division and that has nothing to do with Navistar."
Navistar rose 3 percent to $20.91. Its shares are down 45 percent this year.