Robert Griffin III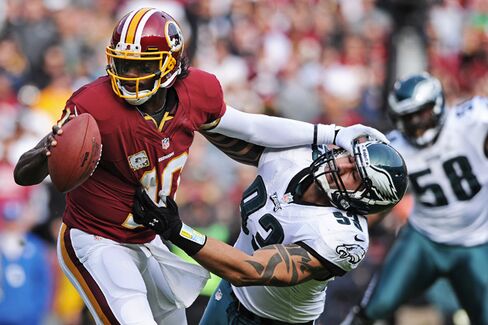 The Dawgs played the full 48 minutes with no penalties and Ellison was penalized twice for 20-yards once on a holding call and the second on a chop block. Copperas Cove will travel to Temple next week to play the Wildcats who sit tied for third place with the Dawgs in District 8-5A.
—David Morris, "Dawgs Control Three Quarters Outscoring Ellison Eagles 34-9," Copperas Cove Leader Press, Oct. 30, 2012
Welch's coaching career also includes stops at West Texas State University, Fort Scott Community College, and Louisiana Tech University.
—Jack Welch, Wikipedia
Not that Jack Welch.
The "Dawgs" are the Copperas Cove Bulldawgs, and they play high school football in Texas. (I assume that means they are very good; equivalent to, say, high school hockey in Moose Jaw, Sask.)
It has been a hellacious week for pro sports, centered on a real tragedy in Kansas City, Mo. There was a lesser, surreal tragedy as the Mark Sanchez Jets and the Very Injured Cardinals dueled to a 7-6 draw. It was the single worst "professional" contest I have witnessed.
It is enough to make one return to the struggle of high school sports and the myriad mentors like Jack Welch who beat character into certain youth.
I was lucky. I had Bill Kehoe, who, on choice and selected occasions, tore my arrogance to shreds between hockey periods. And, I was ever so fortunate to have a coach at neighboring Pittsford, N.Y., who said the right things at the right time. His was Cadillac salesman Don Cherry.
I believe there is a football game tonight. I assume Jack Welch will watch. He should. For I must assume at some point, 65 miles WSW of Waco, he nurtured character with the talent of Robert Griffin III. Discuss.
Before it's here, it's on the Bloomberg Terminal.
LEARN MORE