Euro-Area Manufacturing Contracts, China, Russia Rise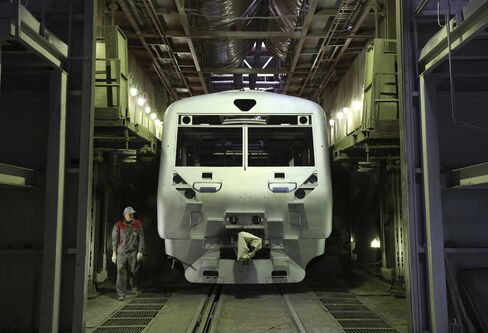 Euro-area manufacturing kept contracting in November while factory output rose in China and Russia and may have expanded in the U.S., underscoring the divergence of the global economic recovery.
Manufacturing output in the 17-nation euro area shrank for a 16th month, with a gauge of manufacturing rising to 46.2 from 45.4 in October. In China the Purchasing Managers' Index climbed 50.6 and in Russia it expanded for a 14th month. A reading below 50 indicates contraction.
Today's data adds to signs a recession in the currency bloc may extend into next year as leaders struggle to tackle the sovereign-debt crisis. The Organization for Economic Cooperation and Development last week cut its growth forecasts and warned of the risk of a "major" global recession. While it sees the U.S. and China's economy grow 2 percent and 8.5 percent next year, the OECD cut its forecast for the euro-area to an 0.1 percent contraction, compared with a previous prediction of 0.9 percent of growth.
"The euro zone economy will remain the laggard of major economic blocs in 2013, but what we're starting to see in the manufacturing sector is that better activity elsewhere is starting help European exports," Nick Kounis, head of macro research at ABN Amro Bank NV in Amsterdam, said in a telephone interview. "European domestic demand is dramatic, it's shrinking quite significantly."
Stocks Climb
The Stoxx Europe 600 Index advanced 0.6 percent to 277.49 at 11:50 a.m. in London. The equity benchmark has rallied 19 percent from this year's low on June 4 as the European Central Bank announced an unlimited bond-buying plan and the Federal Reserve started a third round of asset purchases. Futures on the Standard & Poor's 500 Index climbed 0.3 percent today, while the MSCI Asia Pacific Index rose less than 0.1 percent.
In the U.S., a report at 10 a.m. New York time will probably show that manufacturing cooled in November as business demand slowed and disruptions from superstorm Sandy limited production. The Institute for Supply Management's factory index fell to 51.5 from 51.7 in October, according to the median estimate of 75 economists surveyed by Bloomberg.
China's official manufacturing index rose to the highest level in seven months as new orders and export demand climbed, underscoring optimism the economy is recovering after a seven-quarter slowdown.
'Bottoming Out'
"We're seeing accelerating business surveys in China and the U.S. and elsewhere," ABN Amro's Kounis said. "In Europe we're still in contraction mode, but starting to see some signs of bottoming out. We're not getting more negative momentum."
The euro-area economy has shrunk for two successive quarters and economists foresee a further decline in gross domestic product in the final three months of the year. Today's PMI reading is in line with an initial estimate on Nov. 22.
"The ongoing steep pace of manufacturing decline suggests that the region's recession will have deepened in the final quarter of the year, extending into a third successive quarter," Chris Williamson, Chief Economist at Markit, said in the report on the region's manufacturing output. "The rate of GDP decline is likely to have gathered pace markedly on the surprisingly modest 0.1 percent decline seen in the third quarter."
The euro was higher against the dollar, trading at $1.3033, up 0.4 percent on the day, after reaching $1.3049 earlier.
Russia Eases
In Russia, the PMI eased to 52.3 after rising to 52.9, a five-month high, in October, HSBC said.
"Although output growth eased, it still remained robust, with improvements in the new export orders index from contraction to growth pointing to the likely stabilization of growth rates in Russian manufacturing in the coming months," Alexander Morozov, HSBC's chief economist in Moscow, said in the statement.
The economy of the world's largest energy exporter expanded in the third quarter at the weakest pace since a recovery began at the start of 2010, with Russian retail sales unexpectedly slumping in October as unemployment increased for the first time since January. New export orders increased after a "marginal" decline in October, according to HSBC.
In the U.K. and Switzerland, manufacturing output contracted less than economists forecast, while manufacturing PMI fell in Italy and showed more severe decline than initial numbers indicated in France.
Before it's here, it's on the Bloomberg Terminal.
LEARN MORE