Does Rupert Murdoch Know Something Tina Brown Doesn't?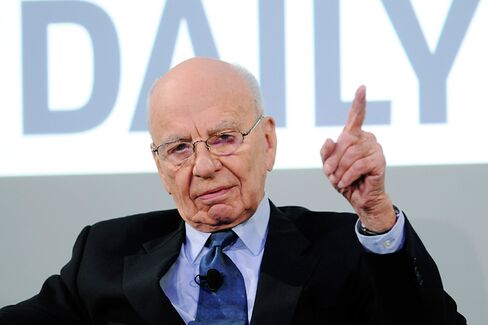 On Monday morning, News Corp. executives announced they were pulling the plug on The Daily, Rupert Murdoch's ambitious foray into tablet-only newsgathering, which launched amid lofty expectations in February 2011. The Daily will stop publishing on Dec. 15.
"From its launch, The Daily was a bold experiment in digital publishing and an amazing vehicle for innovation," Murdoch said in a press release today. "Unfortunately, our experience was that we could not find a large enough audience quickly enough to convince us the business model was sustainable in the long term."
But in the helter-skelter media world of 2012, one mogul's unsustainable business model is another's salvation. Exit Murdoch. Enter Barry Diller.
On Dec. 31, two weeks after the Daily drops out of tablet-only publishing, Diller's Newsweek will publish its last print edition in favor of going digital only.
One of the keys to Newsweek's future sustainability, Editor-in-Chief Tina Brown explained back in October, is to take advantage of the rise of tablet readers.
"Tablet-use has grown rapidly among our readers and with it the opportunity to sustain editorial excellence through swift, easy digital distribution—a superb global platform for our award-winning journalism," wrote Brown. "By year's end, tablet users in the United States alone are expected to exceed 70 million, up from 13 million just two years ago."
No doubt, Murdoch wishes her well.
In the end, both visions (tablet journalism as a failure; tablet journalism as a savior) could be wrong. As tablets continue to proliferate among consumers, it's likely the devices will serve as just one of the many outlets where publishers will need to reach digital readers.
"The Daily missed the whole point of digital publication, which is that you can reach a vast, worldwide audience across a wide array of platforms without having to design entirely separate products for each one," writes Will Oremus at Slate. "It's one thing for general-interest magazines like Slate, Salon, Buzzfeed, or the Huffington Post to do away with the huge costs and constraints of a print product. Once you've done that, narrowing your focus to a single device limits your audience far more sharply than it limits your expenses."
Before it's here, it's on the Bloomberg Terminal.
LEARN MORE