Did Mark Penn Swiftboat Google?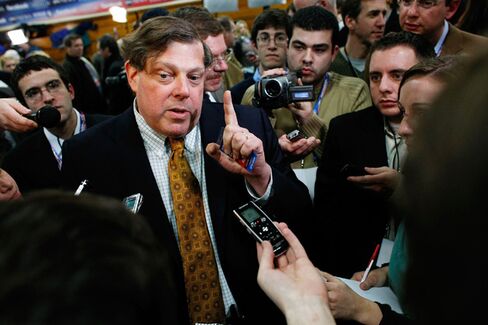 In July, Microsoft announced it was hiring Mark Penn—a longtime Democratic operative, pollster, and corporate strategist—to join the company in a newly created role, leading a "small interdisciplinary team," focused on consumer initiatives that would report directly to Chief Executive Officer Steve Ballmer. At the time, Penn told reporters his first priority would be to focus on Microsoft's search engine, Bing.
Fast-forward four months.
This week, Microsoft unleashed a Web campaign for Bing, called "Scroogled," knocking Google's values with the same flair with which Penn's teams once undermined rival candidates on the campaign trail. "In the beginning, Google preached, 'Don't be evil'—but that changed on May 31, 2012," the site reads. "That's when Google Shopping announced a new initiative. Simply put, all of their shopping results are now paid ads." Google later responded with a statement defending Google Shopping, in part by noting that the recent changes have made "it easier for shoppers to quickly find what they're looking for."
Did Penn play a role in crafting Bing's anti-Google attack ad?
Mike Nichols, Bing's corporate vice president and chief marketing officer, says Penn did participate in the Scroogled campaign. "We generally try not to call out individuals who participate or contribute in campaigns because they are team efforts," says Nichols. "In Mark's case, certainly, we asked him for his advice, and he offered it, and it's been valuable."
The attempt to undermine consumers' trust in Google by taking a strategic swipe at a competitor's roots (the "Don't be evil" slogan dates back to Google's birth) is likely to trigger a bit of déjà vu for anyone who has followed Penn's career in politics.
In 2008, Bloomberg Businessweek's Joshua Green (then at the Atlantic) revealed a series of memos Penn wrote during the 2008 presidential campaign, suggesting to his candidate Hillary Clinton, among other things, that she could undermine voters' trust in Barack Obama by digging into his roots.
"All of these articles about his boyhood in Indonesia and his life in Hawaii are geared towards showing his background is diverse, multicultural and putting that in a new light," Penn wrote. "It also exposes a very strong weakness for him—his roots to basic American values and culture are at best limited. I cannot imagine America electing a president during a time of war who is not at his center fundamentally American in his thinking and in his values."
Ultimately, Clinton ignored Penn's advice. Ballmer, on the other hand, appears to be less squeamish about going negative on Bing's rival. The Scroogled campaign comes on the heels of a number of other ads by Microsoft (predating Penn's arrival) that needle Google, including this and this.
Going negative, whether in politics or business, often triggers a backlash. And sure enough, the Scroogled site quickly drew critics. On Search Engine Land, influential blogger Danny Sullivan pounced. "Great campaign, if it were true," Sullivan wrote. "It's not. Bing itself does the same things it accuses Google of."
Nichols disagrees, and says his marketing team will continue to try to educate the public on the differences between Google and Bing. In other words, expect more attack ads to follow.
"Most of the tests that we've ever done have shown that when we draw stark distinctions between what we offer and what Google offers, that it's often news to people," Nichols says. "At the same time, they value that we are educating them about the options."
Before it's here, it's on the Bloomberg Terminal.
LEARN MORE