U.S. Business Activity Grows for First Time in Three Months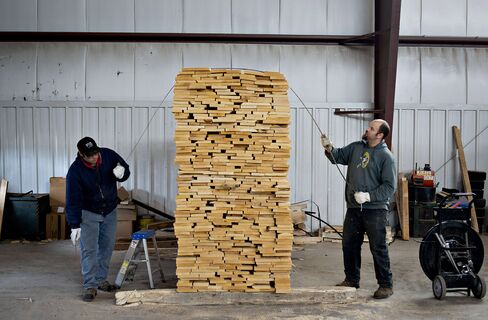 Business activity in the U.S. expanded in November for the first time in three months, showing superstorm Sandy is less damaging to the economy nationally.
The MNI Chicago Report's business barometer rose to 50.4 from 49.9 in October. A reading of 50 is the dividing line between expansion and contraction. The report's index of new orders, considered a leading indicator, dropped to the lowest point in more than three years, indicating the gains may not be sustained.
"The new orders number is concerning," said Jacob Oubina, senior economist at RBC Capital Markets LLC in New York, who correctly forecast the gain in the Chicago index. "You've lost one of the main pillars of economic strength in an environment where the economy is extraordinarily soft."
The total reading contrasts with earlier reports from the Philadelphia and New York region that showed the largest Atlantic storm ever to hit the U.S. had halted manufacturing in that part of the country. At the same time, the prospect that lawmakers will be unable to avert $607 billion in automatic tax increases and spending cuts at the beginning of 2013 may prevent the economy from strengthening.
The median estimate of 53 economists surveyed by Bloomberg forecast the Chicago gauge would rise to 50.5. Projections ranged from 48 to 53.
The MNI Chicago Report's gauge of new orders fell to 45.3, the weakest reading since the recession ended in June 2009, from 50.6 in October. A measure of employment increased to 55.2 from 50.3. Production accelerated, with the index climbing to 54.7 from 51.8, today's report showed.
Consumer Spending
Consumer spending and business investment have slowed as the looming fiscal cliff hinders economic growth at the end of 2012.
Another report today showed consumer spending unexpectedly declined in October and incomes stagnated in October as Sandy kept some in the Northeast from getting to work or from shopping at malls and car dealerships. Purchases decreased 0.2 percent, the weakest reading since May, after a 0.8 percent gain in the prior month, according to Commerce Department data.
Stocks were little changed, with the Standard & Poor's 500 Index poised for its second straight weekly gain, as lawmakers negotiate on the federal budget. The 500 Index rose less than 0.1 percent to 1,416.91 at 10:27 a.m. in New York.
The economy in the U.S. expanded more than previously estimated in the third quarter as a narrower trade deficit and accumulating inventory more than offset a greater-than-projected slowdown in consumer spending. Gross domestic product grew at a 2.7 percent annual rate, the Commerce Department reported yesterday, while household purchases climbed at a 1.4 percent rate, the least in more than a year.
Sandy's Impact
Freight company CSX Corp., in Norfolk, Virginia, has furloughed hundreds of workers and put about 400 locomotives out of service in response to soft demand, due in part to the disruptions caused by Sandy.
"Our international business is continuing to be very strong, but on the domestic side we have seen significant drop off here in the fourth quarter in terms of our volumes," Chief Financial Officer Fredrik Eliasson said at a Nov. 28 conference. "Clearly part of that is because of the impact from hurricane Sandy."
At Microchip Technology Inc., based in Chandler, Arizona, Chief Operating Officer Ganesh Moorthy said it's too soon to tell whether the business environment has reached a bottom as global demand weakens.
Global Slowdown
"We have Europe in a recession and we're not quite sure when that all turns around," Moorthy said at a Nov. 28 conference. "We have some of the growing economies China, India that all have their own issues as well," he said. "So we were not ready and we are not ready to call a bottom."
Economists monitor the Chicago index and other regional manufacturing reports for an early reading on the national outlook. The Chicago group includes manufacturers and service providers with operations in the U.S. and abroad, making the gauge a measure of overall growth.
The Federal Reserve Bank of New York's general economic index showed manufacturing in the area covering New York, northern New Jersey and southern Connecticut contracted in November for a fourth consecutive month. The Fed Bank of Philadelphia's index dropped to a four-month low.
The Institute for Supply Management's factory index for November, which is due Monday, likely showed expansion for the third month, according to the median forecast of economists surveyed by Bloomberg.
Before it's here, it's on the Bloomberg Terminal.
LEARN MORE