King Signals U.K. Banks Need More Capital Against Losses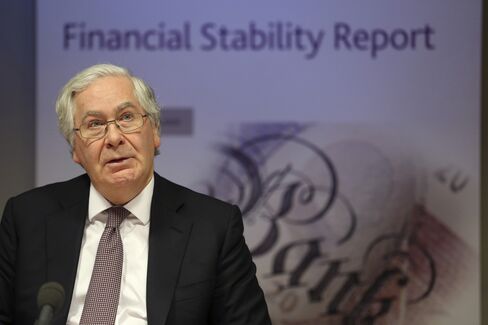 Bank of England Governor Mervyn King signaled U.K. banks may need to build up the capital they hold against potential losses, and asked regulators to report back by March on how lenders will comply.
Banks may need to make bigger provisions for future loan losses and the cost of regulatory fines and customer redress, King told reporters in London today. He said that risk-weightings may also be inappropriate, as he presented a report which said the capital ratios that they are used to calculate may be overstated by as much as 35 billion pounds ($56 billion) by the country's four biggest banks.
"This problem is manageable but it requires some action now," King said. "Just deal with it now. There's no reason why the actions that need to be taken can't be taken without any damage" to the financial system.
King is trying to press banks to raise capital levels without prompting them to shrink lending, threatening economic growth. Policy makers responded to the financial crisis by cutting interest rates to record lows and forcing banks to raise capital. That's allowed them to hold off on foreclosing loans at the same rates as in previous recessions.
Regulators are also increasingly concerned that banks may be altering risk-weightings to bolster capital ratios artificially. By changing how they calculate risk-weightings -- the probability of default assigned to loans, mortgages and derivatives -- lenders can boost capital ratios without cutting loans, selling assets or tapping investors.
Capital Ratios
"Alternative scenarios suggest that capital ratios for the largest banks in the United Kingdom could be overstated by the equivalent in capital terms of between 5 billion pounds and 35 billion pounds," the bank said in its semi-annual Financial Stability Report, referring to analysis of HSBC Holdings Plc, Royal Bank of Scotland Group Plc, Lloyds Banking Group Plc and Barclays Plc.
Lloyds Banking Group, Britain's biggest mortgage lender, and Barclays led the FTSE 350 Banks Index higher. The benchmark was up was up 1.3 percent as of 12:58 p.m. today in London trading. HSBC and Royal Bank of Scotland were up 1.3 percent.
King expressed concern that unlike previous recessions, banks may not be foreclosing on enough loans or recognizing potential losses soon enough. Today is his penultimate Financial Stability Report before he is replaced by the current Bank of Canada Governor, Mark Carney, in July.
Health Analysis
"In judging whether banks are adequately capitalized, we need to ensure that reported capital ratios do in fact provide an accurate picture of banks' health," King said."At present, there are good reasons to think that they do not."
The Financial Policy Committee's semi-annual report recommended that the Financial Services Authority should take action to see that capital reflects a "proper valuation of assets" and prudent calculation of risks. It said this advice replaces previous statements on capital.
King said that today's recommendations, when implemented by the FSA, "will soon get the U.K. banks back to a position where they can support our economic recovery."
The central bank also said that expected loan losses "are in some cases greater than current provisions and regulatory capital deductions."
The FPC has been set up to use macroprudential tools and ensure the resilience of Britain's financial system. It said today that where buffers were found to be wanting, the FSA should ensure firms either raise capital or take steps to restructure. It said banks can do this by curbing compensation and dividends, by increasing core Tier 1 capital or selling non-core assets.
Loan Forbearance
The central bank also warned that while forbearance on loans can be positive, it must be based on proper calculations.
The bank's report highlighted that "inadequate and opaque" risk provisioning of loans may mask underlying risk and heighten profit and capital position uncertainty. It may also impair new lending flows by mis-allocating capital to "unprofitable lending and deferring necessary restructuring."
"This boils down to how forward-looking a bank is when it's providing for the loans it's making," Bank of England financial stability Executive Director Andrew Haldane told the press conference. "We want banks to look forward in terms of where losses might be tomorrow, to expect loss provisions, to look through. Our recommendation is about leaning against the potential risk."
Misselling Costs
On conduct issues, it "seems likely that banks could face further sizable costs for further conduct redress and potential future legal challenges," the Bank of England said in its report. It noted possible costs of as much as 10 billion pounds related to the misselling of payment-protection insurance and Libor.
The BOE said risks to U.K. banks have eased since its last FSR in June, in part due to the European Central Bank's bond-purchase pledge. Still, the threats remain "considerable," it added.
The ECB pledged sovereign bond purchases to reduce the financing costs of debt-strapped nations such as Spain and Italy and safeguard the euro. The ECB expects Spain to trigger the bond program, dubbed Outright Monetary Transactions, by requesting aid from Europe's rescue fund and signing up to the required conditions, Vice President Vitor Constancio said this week.
Before it's here, it's on the Bloomberg Terminal.
LEARN MORE