Inmet Mining Rejects $4.9 Billion Bid From First Quantum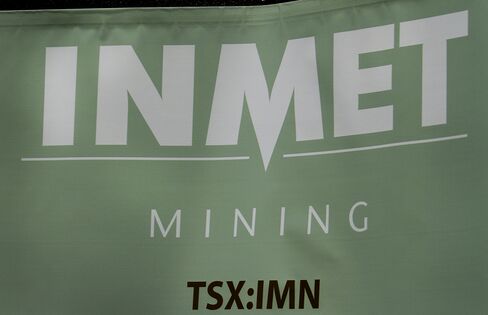 Inmet Mining Corp., the Canadian developer of Panama's biggest copper mine, rejected a C$4.86 billion ($4.9 billion) unsolicited offer from First Quantum Minerals Ltd.
The C$70-a-share offer in cash and stock on Nov. 25 followed a C$62.50 bid made Oct. 28, Toronto-based Inmet said yesterday in a statement. The improved offer is 33 percent more than Inmet's closing share price on Nov. 27. Inmet rose 18 percent to close at C$62 in Toronto yesterday.
Inmet said its board and advisers reviewed the offer and decided it isn't in the best interests of the company's investors. The company also said it adopted a shareholder rights plan, or poison pill, to block an unsolicited bid. Inmet operates mines in Finland, Spain and Turkey and plans to begin copper and gold production at the $6.2 billion Cobre Panama project in 2016. The mine would be its biggest when complete.
"It's opportunistic for First Quantum, or anybody, to come in at this stage," David Baskin, Toronto-based president of Baskin Financial Services Inc., which manages about C$440 million including shares of Inmet, said yesterday by phone. Inmet has "done all the work getting permitting in place, a lot of environmental work."
Clive Newall, Vancouver-based First Quantum's president, and Sharon Loung, a company spokeswoman, didn't immediately respond to requests for comment.
Temasek Stake
Inmet has an enterprise value of $3.79 billion, according to data compiled by Bloomberg. That implies that a sale of the company would be at least the world's third-largest mining acquisition announced this year, according to data compiled by Bloomberg. Glencore International Plc's $32 billion bid for Xstrata Plc and Sesa Goa Ltd.'s offer for Sterlite Industries India Ltd. are the two biggest mining deals unveiled this year, the data show.
First Quantum rose Nov. 12 amid speculation that it held informal takeover talks with Inmet, the U.K.'s Daily Mail reported at the time, without citing anyone. First Quantum is being advised by Goldman Sachs Group Inc. and Jefferies Group Inc., the U.K. newspaper said.
Leucadia National Corp. owns 16 percent of Inmet and Temasek Holdings Pte, Singapore's state-investment company, has 11 percent, according to data compiled by Bloomberg.
Cobre Panama is one of the biggest copper and gold projects being developed, Inmet said in August. It's the Latin American country's largest copper mine ranked by resources, according to data compiled by Bloomberg.
Mine Plan
Inmet's plan is for production of 160,000 metric tons of ore daily, rising to 240,000 tons by the 10th year of operation, the company said in August.
Inmet failed earlier this month in its C$148.4 million bid for Petaquilla Minerals Ltd., the operator of a mine adjacent to Cobre Panama. Inmet last year terminated a C$3.3 billion bid for Canada's Lundin Mining Corp. Inmet shares declined 19 percent this year before yesterday.
First Quantum's C$70-a-share offer comprised as much as C$2.46 billion in cash and the company issuing about 112.7 million shares, a 50:50 mix of cash and stock, Inmet said. First Quantum, which mines copper in Africa and nickel in Australia, dropped 1.6 percent to C$20.80 in Toronto yesterday.
The value of the First Quantum deal was calculated based on the 69.4 million shares of Inmet that were outstanding as of Oct. 31, according to data compiled by Bloomberg.
Before it's here, it's on the Bloomberg Terminal.
LEARN MORE