Buying That First Home Is Getting Harder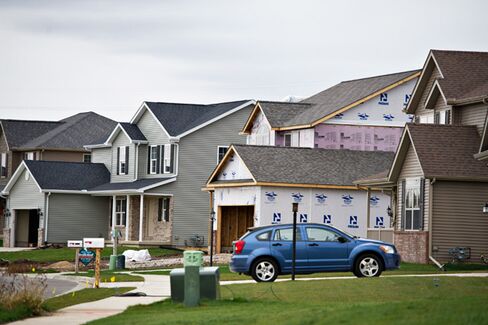 The housing market may be recovering, but not everyone's along for the ride. First-time buyers are becoming a shrinking share of purchasers, according to the results of a monthly survey of 2,500 real estate agents. New home buyers made just 34.7 percent of all purchases in October, the lowest since the Campbell/Inside Mortgage Finance HousingPulse Tracking Survey started in September 2009. Three years ago, first-time borrowers were 47 percent of all buyers, buoyed at the time in part by a tax credit.
First-time homeowners, who typically buy lower-priced homes and need extra financing, are losing share as the market shifts from distressed properties such as foreclosures. Distressed sales, which usually cost less, were almost half of all of purchases a year ago, but now they're just over a third of sales. At the same time, prices for all existing homes have been rising—prices were up 4.4 percent in September over the previous year, according to the Federal Housing Finance Agency—making homes less affordable for first-time buyers.
For new buyers, rising prices are coupled with difficulties in getting a mortgage. About half of all first-time buyers get their loans through HUD's Federal Housing Administration, which allows down payments as low as 3.5 percent. Because loans with lower down payments are riskier, the FHA's rates are typically higher than those of traditional mortgages. With interest rates at near-record lows, the incremental difference wasn't causing much consternation in the past. But facing concerns that it has taken on too much risk and may need a bailout, the FHA raised rates in August and plans to do so again next year.
Interest rates are still near historic lows, rents are rising, and home prices (adjusted for inflation) are still at levels not seen in more than a decade. That means first-time buyers may be missing out on quite the opportunity, if they just can find a loan and a home they can afford.
Before it's here, it's on the Bloomberg Terminal.
LEARN MORE