Taiwan Stocks Rise as Government Considers Support: Taipei Mover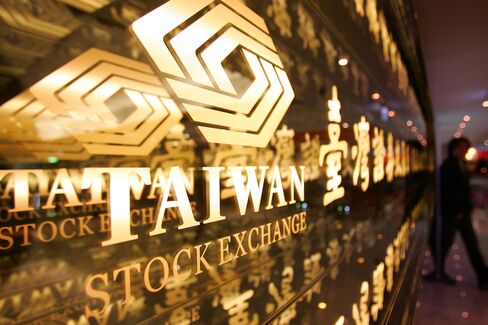 Taiwan's stocks advanced to a five-week high as the government considered plans to bolster equities. Bonds dropped, sending 10-year yields to the highest level in three weeks.
The Taiex closed 1.1 percent higher at 7,407.37 in Taipei, the highest level since Oct. 19. The measure jumped 4.2 percent the past two days. The yield on 1.125 percent notes due September 2022 rose 6 basis points, or 0.06 percentage point, to 1.139 percent, the highest level since Nov. 6, according to Gretai Securities Market.
Premier Sean Chen asked Minister Without Portfolio Kuan Chung-ming to prepare a proposal to boost stocks after the Taiex sank to a four-month low on Nov. 21, Cheng Li-wun, a Cabinet spokeswoman, said in an interview after domestic markets closed last week. Cabinet plans to coordinate NT$300 billion ($10.3 billion) from four government-controlled funds to help revive equities, the Economic Daily News said today, without saying where it got the information.
"If stocks continue to rally because of the government's support, some investors may pull money out of bonds," said Albert Lee, a fixed-income trader in Taipei at Cathay United Bank Co. "Insurers, who are among the big players, may go into stocks."
Taiwan's dollar appreciated 0.2 percent to NT$29.104 against its U.S. counterpart, based on Taipei Forex Inc. prices. The currency touched NT$28.959 on Nov. 12, the strongest level since September 2011.
Quarterly Drop
The government moved to support equities after the Taiex lost 5 percent this quarter to last week, the third worst-performing Asian index after Mongolia and Sri Lanka, data compiled by Bloomberg show. Even after the declines, Taiex shares trade at an average 17.6 times estimated profit, a 28 percent premium over the MSCI Asia Pacific Index and more than valuations for South Korea's Kospi Index, the Shanghai Composite Index and the BSE India Sensitive Index.
Hon Hai Precision Industry Co., which accounts for 5.4 percent of the Taiex, added 0.9 percent to NT$92.80, adding to a 3.4 percent jump on Nov. 23. Formosa Chemicals & Fiber Corp. climbed 3.4 percent to NT$67.50, taking its two-day surge to 9.6 percent.
The plans to boost equities drew skepticism from Citigroup Inc. to FPP Asset Management LLP even as the island's American depositary receipts jumped the most since April. The Bank of New York Mellon Taiwan ADR Index gained 3.7 percent, the most since April 26, to 234.03 in New York on Nov. 23.
Government Support
"There's no need for them to step in and bolster the stock market, it's totally unnecessary," Jonathan Neill, who helps oversee $250 million at FPP Asset Management in London, including a fund that is 50 percent Taiwanese shares, said by phone from London on Nov. 23. "It's not like their market is falling to pieces, it's just lagging some other markets and doing better than others."
Banks that are part-owned by the government and state-controlled funds should buy stocks at lows, the Central News Agency cited Finance Minister Chang Sheng-ford as saying Nov. 22. About 2.2 billion Taiex shares were traded the following day, the most in four weeks, as stock exchange data showed overseas investors made the biggest net purchases of equities since Sept. 14.
Taiex trading volumes today were 82 percent above the 30-day average as of this time of day. The gauge's 30-day volatility is at 14.7, the highest level since Aug. 22, data compiled by Bloomberg show.
Lehman Bankruptcy
The NT$500 billion National Stabilization Fund isn't intervening in the market at this stage, Deputy Finance Minister Tseng Ming-chung said by phone in Taipei on Nov. 23. The fund was created in March 2000 to help protect Taiwan's markets from "significant occurrences at home and abroad," according to the finance ministry's website.
The government also controls four other funds through which it can purchase equities. It instructed the funds to buy shares in September 2008 as Lehman Brothers Holdings Inc.'s bankruptcy filing caused the Taiex to plunge 17 percent in four weeks. The government said it bought stocks in August 2011 to counter a two-week slump that dragged the index down by 15 percent.
Stocks have slumped this quarter on concern the global slowdown will crimp the island's exports of mobile-phone handsets and computers. Overseas shipments unexpectedly fell 1.9 percent in October from a year earlier, the eighth monthly drop this year.
The island's third-quarter gross domestic product expanded 0.98 percent from the previous year, the statistics bureau said on Nov. 23 in Taipei. The median in a Bloomberg News survey of economists was for 1 percent growth.
"One shouldn't look at government intention, but rather the policy action," Peter Kurz, an analyst at Citigroup, said by phone on Nov. 23 from Taipei. "Just because the government wants the market to go higher, doesn't necessarily mean that it will." His team was ranked first for Taiwanese research by Institutional Investor this year.
Before it's here, it's on the Bloomberg Terminal.
LEARN MORE