Hungry Girl Host Lisa Lillien's Black Friday Bag Lunch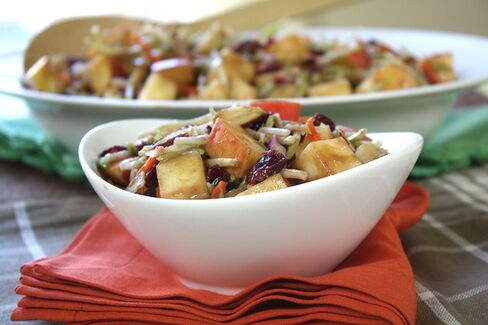 By the day after Thanksgiving, it seems ages ago that that plump turkey looked so tempting on the dinner table. Now all that remains is an ineptly carved bird and pants that are too tight. Dieters, fear not, says Cooking Channel host and guilt-free eating advocate "Hungry Girl" Lisa Lillien. The author of the new cookbook Hungry Girl to the Max! creates a low-fat "scoopy" turkey salad recipe for Bloomberg Businessweek. Says Lillien: "It's a great, easy-to-pack lunch that'll give you pretty much everything you love about Thanksgiving meal—without all the fat and calories."
Ingredients
Serves 5
One 12-oz bag (4 cups) dry broccoli cole slaw
8 oz cooked and chopped skinless turkey breast
1 cup chopped Fuji apple
1⁄3 cup sweetened dried cranberries, chopped
¼ cup honey-roasted sliced almonds
¼ cup jellied cranberry sauce
2 tbs fat-free mayonnaise
2 tsp honey mustard
2 tbs balsamic vinegar
Dash each of salt and black pepper, or more to taste
Instructions
In a large bowl, combine broccoli slaw, turkey, apple, chopped dried cranberries, and almonds. Toss to mix.
To make the dressing, in a medium bowl, combine cranberry sauce, mayo, and honey mustard. Stir until smooth. Add vinegar, salt, pepper, and 2 tbs water. Mix well.
Add dressing to the large bowl and mix thoroughly. Chill or serve immediately.
Info (1 serving): 185 calories, 3g fat, 145mg sodium, 23.5g carbs, 4g fiber, 15.5g sugars, 16.5g protein
Before it's here, it's on the Bloomberg Terminal.
LEARN MORE