HP and UBS Are Hiding Behind Their Scapegoats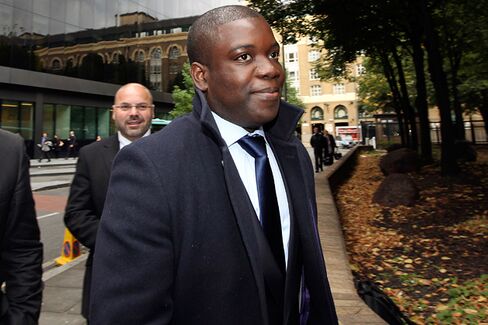 The rogue is a perfect villain. This week we had two: Kweku Adoboli, the former UBS trader who got seven years in jail for rogue trades, and Mike Lynch, the rogue leader who allegedly tricked Hewlett-Packard into buying Autonomy with dodgy accounting. Both are being blamed for causing massive damage—a $2.3 billion loss for UBS and an $8.8 billion writedown for HP. Both are colorful characters who'd made their homes in London. Adoboli is a Ghanian-born son of privilege who was nurtured as a high-potential player at the bank; Lynch is the Irish-born mathematical genius and entrepreneur who'd built one of the U.K.'s greatest tech companies.
Whatever blame they may deserve for their actions—and Lynch has said several times this week that he deserves none—neither is a solo actor in these losses. The companies that are portraying themselves as victims deserve some blame, too.
Let's start with UBS. On the surface, it's a clear-cut case. Adoboli was found guilty of unauthorized trades and will spend years in jail. But UBS is also under scrutiny for failing to detect the trades. Ben Moshinsky and Lindsay Fortado of Bloomberg News report that UBS faces a fine of about £45 million from the U.K.'s Financial Services Authority. If so, that would be a welcome reminder that culture plays a role in many crimes. At the very least, UBS had a culture that enabled this young man to rack up stunning losses with relatively little oversight.
Adoboli himself goes further. In an e-mail to Bloomberg News, he says leaders such as JPMorgan Chase Chief Executive Jamie Dimon and former Barclays chief Bob Diamond were rewarded for taking big risks early in their career. Whether or not that's true, neither was accused of committing fraud. But Adoboli makes an interesting point. Imagine if his behavior had resulted in a $2.3 billion gain for the bank. Would he have been hauled into court for those unauthorized trades? Would he even be fired? Think about the accolades that AIG heaped on its London-based financial products unit when its credit default swaps boosted the bottom line. Then the housing market blew up and those exotic instruments essentially brought down the company, forcing a AAA-rated global giant to put itself in government hands. Suddenly, a role model unit was cast as a rogue.
The story behind HP and the culpability of Autonomy founder Mike Lynch continues to unfold. What we do know is that more than a dozen firms were involved in advising on the $11 billion acquisition last year. We know that HP chief Meg Whitman, who was on the board at the time of the deal, told investors on Nov. 20 that the company now needs to take a $8.8 billion charge on the deal because of a "willful sustained effort" to "inflate the underlying financial metrics" to "mislead investors and potential buyers." And who inflated those numbers? "Some" Autonomy employees, according to Whitman, though she also blames accounting firm Deloitte for failing to catch it. (The FBI has opened an investigation.) What about the HP management or directors who voted to pay an 80 percent premium on top of what investors thought Autonomy was worth? Do they deserve any blame? Well, Apotheker and the former head of strategy are gone.
But let's not ignore the environment in which this massive hit is taking place. HP is a company that's battling a persistent decline in its revenue, net income, and market share. Last quarter, it took an $8 billion charge for another acquisition—Electronic Data Systems, which HP bought for $13.9 billion in 2008. HP's stock has more than halved since Apotheker left. Lynch may have been a marketing genius in allegedly selling HP a bill of goods on his company, but even he can't be blamed for that.
Before it's here, it's on the Bloomberg Terminal.
LEARN MORE