HSBC May Get $9.6 Billion for Ping An, Newspaper Reports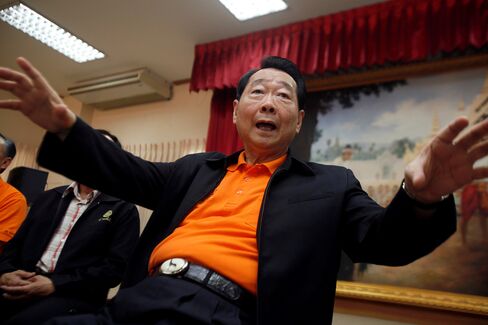 HSBC Holdings Plc is in talks to sell shares of Ping An Insurance Group Co. to Thailand's Charoen Pokphand Group for about HK$74 billion ($9.6 billion), the Shanghai Securities News reported.
The Thai company, controlled by billionaire Dhanin Chearavanont, has offered about HK$60 for each share held by London-based HSBC, the newspaper said yesterday, citing a person it didn't identify. Europe's largest lender by market value said Nov. 19 it's in talks to sell its stake in China's second-largest insurer, without identifying potential buyers.
A sale at that price would be the largest transaction globally for insurance assets in two years, according to data compiled by Bloomberg. HSBC Chief Executive Officer Stuart Gulliver, under pressure to revive profitability, has already sold assets including some insurance operations in Asia so far.
"HSBC group will be more devoted to the commercial banking business, rather than insurance," following a sale, Wilson Li, a Shenzhen-based analyst at Guotai Junan Securities Co., wrote yesterday in a note to clients. The bank may use the proceeds to "invest more heavily in HSBC China to secure its position as the leading foreign bank in China."
Shares of HSBC gained 0.5 percent to close at HK$75.05 in Hong Kong trading yesterday, extending gains for this year to 27 percent. The stock fell 0.6 percent in London trading yesterday after climbing 3.8 percent on Nov. 19.
Shares Decline
Ping An stock declined for a second day in Hong Kong, dropping 1.2 percent to close at HK$57.75. The stock has advanced 13 percent this year.
The talks between HSBC and Shenzhen-based Ping An, which have been under way for a few months, are now in an advanced stage, Securities News said.
Gareth Hewett, a Hong Kong-based spokesman for HSBC, declined to comment on the report. Dhanin said "there is no news" when asked by reporters in Bangkok yesterday evening whether his company is in talks to buy HSBC's Ping An shares.
Discussions about the Thai company buying the Ping An stake had been taking place in Hong Kong, Caixin magazine reported on its website yesterday, citing an unidentified person at Charoen Pokphand. China Development Bank Corp. is providing funding to Charoen Pokphand for agricultural projects, and that financing isn't linked with the talks to buy the Ping An stake, Caixin reported.
Seed Retailer
Charoen Pokphand was established in 1921 as an agricultural seed retailer in Bangkok by Dhanin's father, Chia Ek Chor, who came from Shantou in China's Guangdong province, and his uncle, Chia Siew Whooy, according to the company.
The group has since expanded into a global business with operations in agriculture, retailing, trading, telecommunications, property development and petrochemicals, employing more than 250,000 people, according to its website, and has annual revenue of about $33 billion.
The company's only insurance business, Allianz C.P. General Insurance Pcl, is a joint venture in Thailand with Allianz AG.
Dhanin is president of the China Association of Overseas Chinese Entrepreneurs, honorary president of the Thai-Chinese Chamber of Commerce and a member of Harvard University's global advisory board, according to a biography provided by the company.
Charoen Pokphand, which began investing in China in 1979, said it was the first major foreign investor there. Its Chia Tai Co. unit, established in Shenzhen that year, has a Chinese-government registration number of 001, according to Charoen Pokphand's website.
Ping An is watching the developments on the potential sale of its shares by HSBC, the insurer said in a statement to the Shanghai Stock Exchange on Nov. 19.
"We have no further information and comment," Sheng Ruisheng, a Shenzhen-based Ping An spokesman, said yesterday. "It's business as usual when it comes to the company's operations and management."
— With assistance by Aipeng Soo, and Stephanie Tong
Before it's here, it's on the Bloomberg Terminal.
LEARN MORE