France, Spain, Italy, Germany Meeting on Greece, Official Says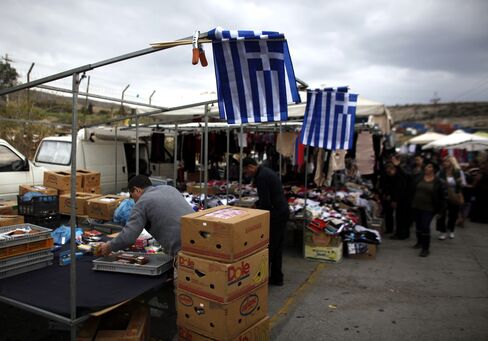 Finance officials from France, Germany, Italy and Spain were meeting to try to forge a common position on how to shore up Greece before a meeting of euro-region finance chiefs tomorrow, a European Union official said.
Greece has been granted a two-year extension on meeting deficit-reduction goals contained in its EU-led bailout programs. Finance ministers meeting in Brussels tomorrow will be trying to reach an agreement on how to close the funding gap resulting from the deficit extension.
Lengthening maturities on some Greek debt and lowering interest rates on the country's bailout loans are the main options being discussed at the meeting today, said the official, who declined to be identified because the talks aren't public.
Market News International reported earlier that the meeting was taking place.
Before it's here, it's on the Bloomberg Terminal.
LEARN MORE