How Employers Can Make the Most of Sandy Relief Efforts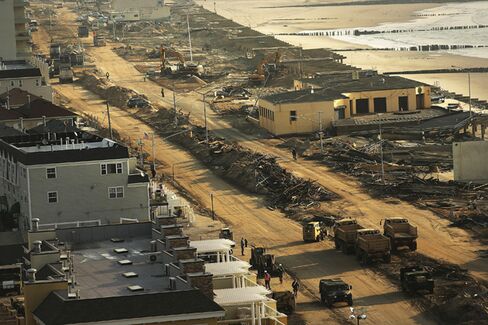 Every Thanksgiving, Lawrence Sprung sends his 100 Long Island wealth management clients holiday greetings and a basket of fancy fruit or cookies emblazoned with his Mitlin Financial logo. This year it didn't sit right with him. "With the number of people who are without basic staples, it's kind of the wrong message to send gifts to those who have," says Sprung, whose two-employee, Hauppauge (N.Y.) business serves clients with a minimum of $1 million in investable assets.
Instead, Sprung contacted regional food bank Long Island Cares for a list of staples needed by victims of Hurricane Sandy. This week he plans to take the "several thousand dollars" he normally spends on gifts and use it to load up on the requested cleaning products, school supplies, and personal-care items. He and his staff will deliver the goods to the food bank and send clients an electronic holiday card with a picture of the donations made on their behalf. Elana Sissons, the nonprofit's food-drive coordinator, says that "there's been an outpouring from all across the country" and donations are up 75 percent so far this quarter from the same period last year, with many coming from business owners on behalf of their clients and employees.
More than half—57 percent—of about 500 small business owners surveyed in October for American Express OPEN indicated they will donate to charity this holiday season; one-third said they would donate money, one-quarter said they would make an in-kind donation, and almost one-quarter said they would donate volunteer time. When small companies can offer employees and clients a way to help out at the holidays, it is a good deal for everyone, says Vicky Oliver, a branding and business etiquette consultant in Manhattan. "Employees want their employer to represent their values. They may be looking for, but not finding, a good way to help their community," Oliver writes in an e-mail.
She recommends that business owners interested in hurricane relief set up an account where their employees can contribute and then match their contributions dollar for dollar. "Be sure to give to an organization that is not affiliated with a single religious group, as this could be off-putting to some employees," she writes. Due diligence matters: Whenever there is a disaster, fraudulent outfits spring up that steal funds from well-meaning but uninformed donors. Make sure you verify the legitimacy and effectiveness of any organization you consider contributing to through a resource such as GuideStar.org, the Better Business Bureau, or Charity Navigator.
In Cape Coral, Fla., a maintenance department employee of the Resort at MarinaVillage suggested collecting money and goods for people affected by Sandy in lieu of the hotel's annual local food drive. Marketing manager Michelle Phillips had the same idea and says the company's 200 employees have embraced it. "The area where we live is snowbird central, so we all have tons of family and friends" in the affected areas, she says. The resort has put collection boxes in its lobby and at its concierge desk and is taking credit-card donations from guests at checkout.
If your own business was hit hard by the storm, whether by inventory shortages or cancelled contracts, it doesn't hurt to ask employees to pitch in. (And the Small Business Administration has disaster loan programs worth understanding.) "Perhaps you need them to work a few hours extra this month, or postpone their holiday bonus till after the New Year, or donate one of their sick days," Oliver writes. "Call a meeting and ask them to brainstorm solutions."
If your business does something charitable this year, let your clients know in a gracious way, advises Barbara Pachter, a business etiquette expert in Cherry Hill, N.J. "You're changing a tradition, so explain it well and be sincere," she says. Send a holiday card with details of what you did to thank your customers, whether it involves a monetary donation (no need to specify an exact dollar amount) or volunteer time and effort. Make sure you choose a cause that is noncontroversial and nonpartisan, she says, noting that it is "harder and harder these days" not to offend anybody.
She advises against making donations on behalf of employees without first asking them, especially if it means they won't get a traditional holiday bonus. "That's almost as if you are cutting their wages and giving it to somebody else; let them decide what to do with that money," she says.
Many of her small business and self-employed clients send homemade goodies out at holiday time; she advises them to continue that tradition even if they decide to do a donation this year. "It doesn't cost a lot, and people remember it and look forward to it all year," she says.
Before it's here, it's on the Bloomberg Terminal.
LEARN MORE