Two Missing After Explosion on Black Elk Gulf Platform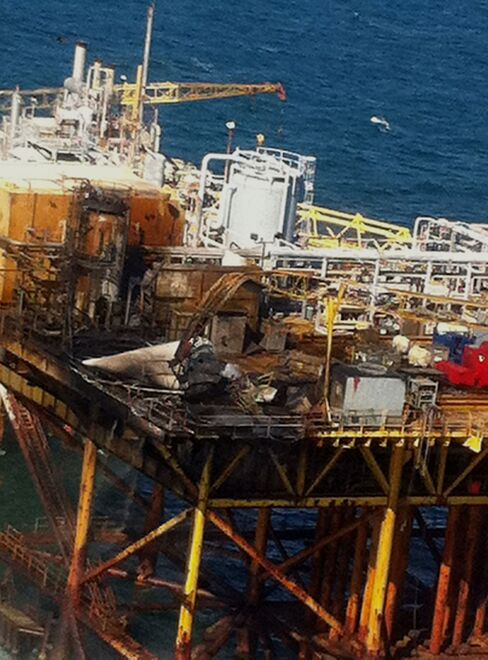 Nov. 17 (Bloomberg) -- An explosion on an oil platform in the U.S. Gulf of Mexico that left two workers missing is raising questions about the safety and oversight of offshore energy operations after BP Plc agreed to a record fine.
The fire at a platform owned by Black Elk Energy Offshore Operations LLC occurred just before 9 a.m. local time yesterday as work was being done on the platform about 20 miles (32 kilometers) off the coast of Grand Isle, Louisiana, Drake Foret, a U.S. Coast Guard spokesman, said in a phone interview. The fire was extinguished and the platform is still structurally sound.
The explosion draws new attention to offshore safety as London-based BP accepted responsibility for a 2010 explosion at its Macondo well that killed 11 workers and resulted in the largest offshore U.S. oil spill. BP on Nov. 15 agreed to plead guilty to manslaughter and pay $4.5 billion, including a record criminal fine. The incident caused the government to halt new deep-water exploration drilling permits for months and restructure its oversight of the industry.
The "accident makes clear that the hazards of oil and gas drilling are not in America's rear view," said Frances Beinecke, president of the Natural Resources Defense Council and a member of the presidential commission that investigated the BP oil spill. "Our leaders must keep that squarely in mind when considering where and how to allow further drilling along our coasts and in our communities."
Twenty-two people were on Black Elk's platform, which was not producing oil or natural gas at the time of the explosion, according to the Coast Guard. Eleven injured workers were flown to area hospitals.
'Giant Fireball'
Four platform workers were in critical condition at West Jefferson Medical Center and were to be transferred to a hospital in Baton Rouge, said Taslin Alfonzo, a spokeswoman for the Marrero, Louisiana hospital. Four others at Lady of the Sea hospital weren't in critical condition and two at Terrebonne General Medical Center were in good condition.
Scott Sullivan, a charter captain for Mexican Gulf Fishing Co., was about 15 miles away from the platform when it exploded.
"I cast, and turned around and out of the corner of my eye caught a giant fireball," he said in a phone interview. "Then they did all the maydays on the radio. As a boat guy, you never want to hear that."
Unlike Macondo, the Black Elk explosion wasn't on a drilling rig and was in shallow water, about 56 feet (17 meters) deep. An oil sheen that measures one-half mile by 200 yards was reported near the Black Elk platform, the Coast Guard said. Two boats, two helicopters and a plane were being used in the search for the two missing people.
West Delta
The fire happened at a facility on West Delta Block 32, according to a statement on Houston-based Black Elk's website.
Black Elk owns 100 percent of the platform, Chief Executive Officer John Hoffman said in a telephone interview yesterday. Energy XXI Bermuda Ltd. has some interests in wells at the platform, he said. The platform can produce about 600 barrels a day, primarily oil, Hoffman said.
"Right now, our 100 percent focus is on the workers and their well-being and their families," Hoffman said. He said any further implications for the industry would be discussed "down the road."
Grand Isle Shipyard, a company Black Elk has used previously, was conducting work at the platform, and that was expected to be finished within a day or so, Hoffman said. He said Black Elk then would have waited for pipeline infrastructure it doesn't control to be ready.
Skimmer
The platform work included putting in a water skimmer to clean up water before it goes overboard, Hoffman said. Another project was to put in a diverter valve for an oil line, and that work is believed to be related to the incident, he said. Hoffman said "it wasn't difficult work."
Phone calls and e-mails to Energy XXI weren't returned. A call to Grand Isle Shipyard's main number went to an answering service, where an employee said, "we have no comment." She declined to give her name. Hoffman said the missing workers were from Grand Isle Shipyard.
Black Elk holds stakes in more than 854 wells on 155 platforms off the coasts of Louisiana and Texas in the Gulf, in water depths ranging from less than 10 feet to more than 6,000 feet, according to the company's website. The company, formed in 2007, is about 75 percent owned by Platinum Partners LLP, a New York-based hedge fund.
Uri Landesman, president of Platinum, declined to comment on the fire.
'All Possibilities'
For its investment in Black Elk, "all possibilities remain open and we examine all of them at all times," Landesman said. Platinum, which has $1.15 billion in assets, watched with interest the potential initial public offering of Dynamic Offshore Resources LLC, which SandRidge Energy Inc. agreed to buy for $1.28 billion before a share sale went forward.
Black Elk paid a $307,500 penalty on Sept. 11 after U.S. Interior Department inspectors found the company fell behind on testing some valves on an offshore oil facility for leakage, the agency on its website.
In response to the Macondo incident, the government split up the agency that oversaw drilling on federal lands and offshore, with one entity solely focused on regulation and enforcement. Inspectors for the Bureau of Safety and Environmental Enforcement are investigating the incident, said Nicholas Pardi, an agency spokesman.
Dedicated Agency
The federal government needs to create a dedicated agency akin to the Federal Aviation Administration with expertise specific to the petrochemical industry to avoid future life-threatening offshore and onshore accidents, Brent Coon, a Houston-based attorney who represents more than 15,000 clients affected by the BP spill, said in a telephone interview.
"Anytime you're dealing with pressure, hydrocarbons and heat you're dealing with factors that pose a great risk of serious consequences, including explosions," he said. "This continues to happen all too often with the level of oversight that our government currently provides. This industry will never do a good job of regulating itself."
Congressional Action
Two years after the BP disaster, the presidential commission gave Congress a low grade for failing to pass any legislation that would make drilling safer, according to a April 17 report.
"Congress still needs to pass legislation that codifies the actions taken by the Obama administration, increases penalties and liabilities for companies that spill and ensures that the agencies charged with overseeing offshore oil drilling have the resources they need to protect workers and the environment," Representative Ed Markey, a Massachusetts Democrat, said in an e-mail.
BP, Europe's second-biggest oil company, this week announced its $4 billion settlement with the U.S. Justice Department that includes a record $1.26 billion criminal fine. It also agreed to pay $525 million to settle with the Securities and Exchange Commission.
"Whenever there is a fire or a loss of life, it should prompt the government and companies to ask if we are doing enough to promote the safety culture," Frances Ulmer, another former member of the presidential BP commission, said in a phone interview. "There needs to be constant reflection and adaptation to new technologies, new challenges and opportunity to improve both the regulatory system and operations."
To contact the reporters on this story: Edward Klump in Houston at eklump@bloomberg.net; Kasia Klimasinska in Washington at kklimasinska@bloomberg.net; Jim Polson in New York at jpolson@bloomberg.net
To contact the editor responsible for this story: Susan Warren at susanwarren@bloomberg.net