Gap Raises Annual Forecast as North American Sales Gain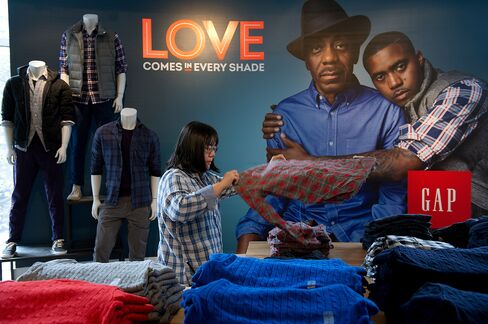 Gap Inc., the largest U.S. specialty-apparel retailer, raised its full-year earnings forecast as sales in North America advanced.
Profit this year will be $2.20 to $2.25 a share, an increase from a previous forecast of $1.95 to $2 a share, the San Francisco-based company said yesterday in a statement. Analysts projected $2.27, the average of 23 estimates compiled by Bloomberg.
Gap has been among the top performers on the Standard & Poor's 500 Index this year as improved product and marketing at its namesake, Old Navy and Banana Republic brands drive sales in North America. The retailer, which said revenue this fiscal year has increased 6.4 percent to $10.9 billion, is benefiting from lower cotton costs and new management, especially at value-oriented Old Navy.
Jennifer Davis, an analyst at Lazard Capital Markets in New York, said the company's recovery is still a work in progress.
"Sales are very good and they do show that Gap is going through a turnaround," Davis, who has a buy rating on the stock, said in a telephone interview yesterday. "I would say they're only 50 percent better at Gap now. They still have a lot of room for improvement."
Gap rose as much as 5.8 percent to $35.20 in extended trading yesterday. The shares fell 1.1 percent to $33.26 at the close in New York and are up 79 percent this year.
Profit Surges
The company also boosted its full-year operating margin forecast to about 12 percent from about 11 percent.
Net income for the quarter ended Oct. 27 increased 60 percent to $308 million, or 63 cents a share, from $193 million, or 38 cents, a year earlier, Gap said. Analysts projected 63 cents, the average of 22 estimates compiled by Bloomberg. The company forecast a range of 61 cents to 63 cents on Nov. 1.
Sales in the third quarter rose 7.8 percent to $3.86 billion, topping the $3.83 billion average of estimates compiled by Bloomberg.
Comparable-store sales for Gap North America rose 7 percent in the quarter compared with a decline of 6 percent a year earlier. Old Navy North America posted a 9 percent gain in same-store sales in the quarter after a drop of 4 percent a year earlier. International comparable-store sales declined 3 percent compared with a drop of 10 percent a year ago.
Sales Turnaround
Analysts have been viewing sales this year as the start of a recovery, with new hires at the company's brands working to regain market share from rivals such as J.Crew Group Inc. and Hennes & Mauritz AB. Gap has also been expanding Athleta, which sells premium women's fitness apparel, and its fashion-oriented Piperlime website, which opened its first brick-and-mortar location in September.
Limited Brands Inc., the owner of the Victoria's Secret and Bath & Body Works chains, on Nov. 14 reported third-quarter net income of $73.4 million, or 25 cents a share, compared with $94.3 million, or 31 cents, a year earlier. Excluding some items, profit of 26 cents a share topped the 25-cent average of analysts' estimates compiled by Bloomberg. The company lost some sales and profit from the sale of its controlling stake in a third-party apparel sourcing business.
Abercrombie & Fitch Co., the teen apparel retailer with more than 1,000 stores, soared the most since its 1996 initial public offering on Nov. 14 after reporting third-quarter net income rose 40 percent to $71.5 million, or 87 cents a share, from $50.9 million, or 57 cents, a year earlier.
Extending Hours
The New Albany, Ohio-based company, which benefited from stronger sales internationally and online, raised its annual forecast to $2.85 to $3 a share, compared with analysts' projection of $2.50, the average of 32 estimates compiled by Bloomberg.
Gap is extending shopping hours this holiday season by opening more than 1,100 U.S. stores on Thanksgiving Day, as it works to boost sales in the fourth quarter, a period which accounted for 29 percent of its sales in fiscal 2012.
Chief Executive Officer Glenn Murphy announced a management shuffle at the retailer last month, assigning a single global executive to each of its three biggest brands in an effort to bring together its online, outlet, franchise, North American and international divisions.