Europe's Economy: Look Out Below, Again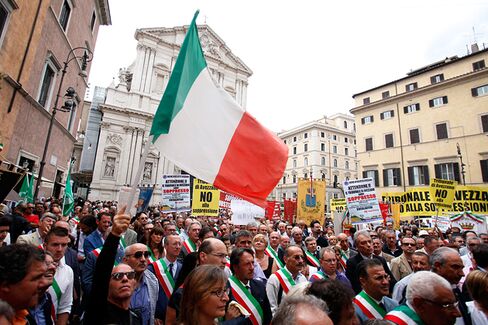 It's official: Europe has double-dipped. The 17-country euro zone has fallen into its second recession since 2008, as figures released on Nov. 15 showed gross domestic product declining 0.1 percent during the third quarter. That followed a 0.2 percent contraction during the previous three months, according to the European Union's statistics office.
There were some unexpected bright spots. Germany and France posted 0.2 percent quarter-on-quarter growth, ahead of expectations. Even some of the region's most troubled economies suffered relatively modest contractions, including 0.3 percent in Spain and 0.2 percent in Italy.
Overall, though, "Europe's economic downturn has not only deepened; it's broadened with a vengeance," says Nicholas Spiro, managing director of Spiro Sovereign Strategy in London. Usually solid economies in such countries as Austria and the Netherlands were among those posting quarterly declines.
In some countries, even worse times could lie ahead. "Whereas austerity is starting to ease in Italy, Spain is heading for the point of maximum pain," economist Holger Schmieding of Berenberg Bank in London wrote in a research note. Recent austerity measures in Spain "will likely lead to a more pronounced recession" during the current quarter and in early 2013, Schmieding says.
France's 0.2 percent expansion, which followed three quarters of flat growth, "is probably the result of a temporary rebound at the European level," says Michel Martinez, an economist at Société Générale in Paris. France "is heading to a moderate recession or at best remaining flat."
The picture isn't likely to improve soon, Spiro says. "We're looking at a period of extreme weakness. This is all because of the repeated failures on the part of politicians to shore up confidence in the single currency area."
Before it's here, it's on the Bloomberg Terminal.
LEARN MORE